2014 Cadillac XTS Walk Around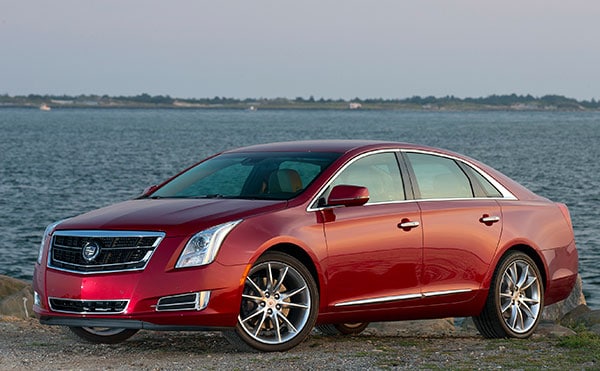 The Cadillac XTS is really a beautiful car, with its elegant wedge shape and crisp lines that race from front to rear. It's distinctly Cadillac, but softer than other Caddies, for example the slightly smaller CTS. It comes across as more sleek, with fewer creases and angles. The headlamps stretch back a bit more, and the grille is more refined and less edgy.
The rear end is tidy and lifted, with signature Cadillac vertical taillamps that aren't too busy. All models above the base trim have a dual exhaust integrated into the clean rear fascia.
Still, the XTS has plenty of bling, with tons of chrome in the grille and around the windows, doors and deck lid. Paired with its Cadillac badge, the face of the XTS is unmistakable as a Cadillac in a rearview mirror.
Interior
Because the Cadillac XTS was a new model in 2013, there aren't many changes in 2014, however the interior gets some additions to options: memory for the front passenger seat, a rear seat entertainment system, an opaque shade for the sunroof; automatic parking assist that parks for you, and Intellibeam headlamps that dim and brighten automatically (Adaptive Forward Lighting). Cadillac invented this in 1952, only then they called it the Autronic Eye, a teardrop-shaped thing the size of a fist that rode on the dashboard like a little backwards mirror. More than 60 years later, Intellibeam works better than Autronic Eye, but not much.
On the freeway, our Intellibeam was nice when it was right, but much of the time it was on low-beam when it should have been high. It got confused a lot (we are wary of those things called intelligent). So you can't relax and forget about it. You have to stay attentive and override it, or you'll be on low beams when high is safer. Is half the time is better than none? We found it too slow to switch to high beams when more light was needed. We preferred to switch the system off.
More important, what has come a long way in six decades is the quality of the headlamps' beam. The high-intensity headlamps on our XTS Vsport Premium provided a broad and bright beam on the dark winding Oregon freeway through a forest full of deer. Once on this freeway we even saw an elk. You wouldn't want to hit one at 70 mph, not even in a Cadillac.
Our XTS was equipped with the Driver Assist Package, including adaptive cruise control, automatic collision preparation, and front and rear automatic braking. Automatic braking is another one you need to watch out for.
Speaking of watch out, our Cadillac buzzed us through the seat a lot, reminding us to watch out; left side for something on the left, right side for the right. In the old days, when they talked about driving by the seat of your pants, this is not what they meant. In the XTS, the Safety Alert Seat tells you when you should watch out changing lanes, or shouldn't back up any farther, or shouldn't drive forward any farther. During our days in the car, we probably got buzzed 50 times. Once, it was useful, when we parking with the nose against a curb; the other 49 times were false alarms. But even when we liked it telling us when the tires were about to contact the curb, other times it didn't warn us, and the tires did contact the curb. So such warnings are only useful if they're consistent, and accurate. Mercifully, you can turn it off.
The XTS is the biggest Cadillac, with a superb 40 inches of rear legroom, about 4 more inches than the BMW 5 Series and Mercedes E-Class sedan, and 2 more inches than the Audi A6. The trunk is massive, with 18 cubic feet, more than the larger BMW 7 Series, Mercedes S-Class sedan, and Audi A8. The rear seats also split 60/40, making room for even more cargo. No need to borrow a pickup truck for moving.
The interior materials are of a high quality, as should be expected of a $65,000 car. The supple front bucket seats make each occupant feel like they're in their own space, with good cubbies and armrests. Because of longish seat cushions, short people (under 5-foot, 5-inches) might find that their legs don't bend over the edge, but then, it's a common problem, as big luxury cars aren't designed for small people. The seatbacks are fairly wide, but bolstering is good enough that you don't slide around.
On base and Luxury models, an analog instrument cluster with electronic driver information center sits in front of the driver. On Premium and Platinum trims, a re-configurable TFT (thin-film transistor) display comes standard. The full-color display allows the driver to select from a variety of layouts that show various driver functions and other information. It is both novel and useful, but those who prefer a good old-fashioned needle are relegated to the lower trims. We loved the head-up display on our Premium, both adjustable for height and programmable for specific information.
At the heart of the XTS cabin is the CUE system with its 8-inch touchscreen. While past Cadillac models were fraught with an overwhelming number of buttons on the center stack, CUE cuts down the number of controls to a handful. CUE operates phone and audio options, and uses voice recognition on models equipped with navigation. Some features worked for us, some were too confusing so we gave up, rather than risk running off the road from the distraction of the mental puzzle requiring our eyes, concentration and hands.
CUE's home menu is configurable. It uses proximity sensing; when your hand is nearby, it automatically brings up menu options related to the current function on the screen. If you don't want those options, too bad. There's always a way to get what you want, the issue is learning that way, let alone liking it.
We also got some seat time in an XTS Platinum with navigation and voice activation. Unlike so many, CUE does a good job with voice recognition; it can correctly identify difficult names from an address book, although it will most likely butcher the pronunciation when repeating it back to you.
There are CUE curiosities. The climate control uses physical buttons for temperature and fan, but to change the vent mode, you have to go into the CUE menu. And fingerprints stick more to the glossy screen than other touch screens; the screen also glares more, which might be why the opaque sunroof screen was added to the 2014 model, and why the XTS comes with a microfiber cleaning cloth.