2014 Chevrolet Camaro Introduction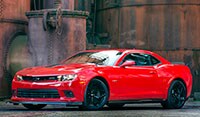 The 2014 Chevrolet Camaro features updated and the addition of a high-powered Z/28 model, keeping its place as the best-looking American muscle car currently on the market.
Changes for the 2014 model year include a new front fascia with a lower, wider front grille and new headlights. In the rear, there's a new spoiler, redesigned exhaust tips and new single-piece taillights, replacing the old double-rectangle design found on the current Corvette Stingray). New Recaro sport seats are optional on Camaro SS and Camaro ZL1 models.
The Camaro Z/28 is a track-ready, super high-performance variant that weighs about 300 pounds less than the Camaro ZL1. The Z/28 is powered by a 7.0-liter V8 that makes a hearty 500 horsepower and 470 pound-feet of torque. It's paired exclusively with a 6-speed manual transmission and uses a race-inspired suspension. Carbon ceramic brakes and performance tires come standard. The interior is no-frills: Standard Z/28 models come without air conditioning (though it can be added as an option), and a spartan audio system that includes only one speaker.
Camaro LS and Camaro LT models continue with a 3.6-liter V6 that makes 323 horsepower and 278 pound-feet of torque. A 6-speed manual transmission is standard and a 6-speed automatic is optional. In terms of power, the V6 can pretty much pass for a V8, a bonus for the price. EPA fuel economy ratings are modest for its class, at 17/28 mpg City/Highway with the manual transmission and 19/30 mpg city/highway with the automatic.
Camaro convertibles are equipped like the coupes but feature a power soft top fitted with acoustical foam in the headliner to minimize noise with the top up.
Camaro SS uses the 6.2-liter V8 from the outgoing Corvette, good for 400 hp and 410 lb.-ft. of torque with a 6-speed automatic, or 426 hp and 420 lb.-ft. with a 6-speed manual gearbox. The Camaro SS uses firmer shocks, springs and anti-roll bars than do the V6 models, but the ride doesn't suffer for it. A limited-slip rear differential is included to reduce wheel spin when trying to put all that power down.
The uber-high-performance Camaro ZL1 uses a supercharged version of the 6.2-liter V8 good for a whopping 580 hp and 556 lb.-ft. of torque. It can accelerate from zero to 60 in 3 seconds flat with a top speed of 184 mph. While testing at Germany's famed Nurburgring racetrack, Chevrolet factory drivers set a lap record with the ZL1, beating the Porsche 911 GT3. At $55k the ZL1 is cheap, given its level of performance.
We found the handling, ride and brakes to be excellent in both the Camaro LT with the V6 and the Camaro SS with the big V8, although the SS suspension is stiffer and its 20-inch tires are firmer. Inside, the cabin is quiet, so 80 mph feels more like 70. Interior materials are good, but the instrumentation is disappointing, with GM trying to be retro rather than clean with gauges.
Perhaps the Camaro's biggest drawback is its lack of driver visibility, due it its high beltline and relatively small windows. Up front, the view is compromised by the long hood and raked windshield. Rearward visibility over the driver's shoulder is hampered by the low, slanted roofline.
Competitors to the Chevrolet Camaro include American pony cars Dodge Challenger and Ford Mustang, each with high-performance versions. Those looking for performance and sporty handling at an attainable price should also consider the Scion FR-S or Hyundai Genesis Coupe.