2014 Chevrolet Corvette Introduction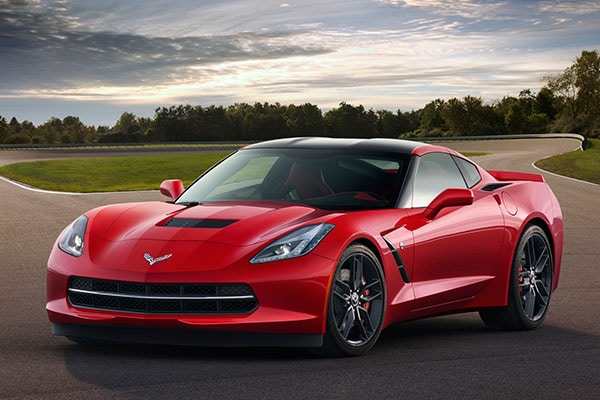 There's no doubt the 2014 Chevrolet Corvette will ruffle feathers. All-new for 2014, the completely redesigned sportscar infuses a healthy dose of European flair into classic American muscle. While some die-hard 'Vette fans may grumble, the new car's lines, evocative of Italian exotics, might very well attract a wider audience that's younger and globally more diverse. Chevrolet is so proud of its creation they've dubbed it the Stingray, a name executives say is historically reserved for the most significant Corvette models. And, like its predecessors, the 2014 Chevrolet Corvette Stingray offers the biggest bang for the buck when it comes to power.
Codenamed C7, the seventh-generation Corvette shares only two parts with the previous-generation model: the interior cabin filter and the rear latch for the removable roof panel. Coupes get a standard carbon-fiber roof, while convertibles get a full-power retractable top. Both body styles are built in GM's plant in Bowling Green, Kentucky.
The 2014 Corvette is the most powerful standard production Corvette to date, courtesy of an all-new LT1 6.2-liter small block V8 good for 455 horsepower and 460 pound-feet of torque. An optional dual-mode exhaust ekes out an extra five horses and five pound-feet of torque. Although the power gain over the outgoing model is moderate, the C7's additional 36 pound-feet of torque helps to keep ample low-end thrust on tap.
Best numbers are achieved with the optional Z51 Performance Package, which adds high-performance gear ratios, an electronic limited-slip differential, unique suspension tuning and more, which work in symphony to skyrocket the Corvette Stingray from 0–60 mph in just 3.8 seconds. Larger tires and brakes help the Z51-equipped Stingray stop from 60-0 mph in just 107 feet.
Fuel-saving technology adds a sensible side to the Stingray, such as direct injection, continuously variable valve timing and cylinder deactivation, the latter of which allows the Corvette to run on four cylinders. Plenty of weight was shaved off, too, thanks to an aluminum frame that's 99 pounds lighter than the steel frame used on the previous model, as well as a carbon fiber hood and other new lightweight materials. The result is an EPA-estimated 17/29 mpg City/Highway with the 7-speed manual.
Five drive modes from Eco to Track change the balance between economy and performance by tweaking twelve elements, including steering, suspension and throttle mapping. Like all of GM's performance cars, the Stingray was tested extensively on the track during the development. The result is a 50/50 weight balance and improvements in handling.
Entry-level Corvettes in the past have been notoriously skimpy on luxury, especially in the cabin. This time around, the interior has been significantly improved with better finish and materials including aluminum trim (carbon fiber is optional), and standard dual, high-resolution information screens that are reconfigurable. Seats are built using an underlying structure of lightweight magnesium and come in two variants: A more comfort-oriented touring option and a sport seat with more supportive side bolstering.
When it comes to specs alone, the 2014 Chevrolet Corvette doesn't have any apples-to-apples competitors. Coupe fans looking for high performance in a more practical package might consider the 580-hp Chevrolet Camaro ZL1 (with the same engine as the C6 Corvette ZR1), Dodge Challenger SRT8 or Ford Shelby GT500. None of these, however, can hold a candle to the Corvette's eye-catching design. Those seeking performance with European refinement and luxury could consider the Porsche Cayman, BMW Z4 or BMW M3, but these are underpowered and overpriced in comparison, making the 2014 Chevrolet Corvette Stingray the best performance value for the money.