2014 Chevrolet Equinox Introduction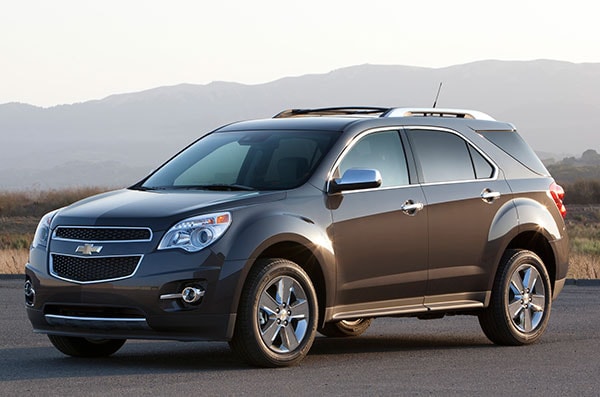 Part of Chevrolet's lineup for the past decade, Equinox has the pricing and features of a compact crossover SUV, but it's slightly larger than its direct competition: closer in dimensions to a midsize model. Standard features are more abundant than typically expected in its price class. Equinox comes in four trim levels: LS, 1LT, 2LT, and top-of-the-line LTZ.
Chrome-clad wheels are standard on 2014 Equinox LTZ models. Otherwise, nothing has changed for 2014, apart from two new exterior colors.
Front-wheel drive is standard, while optional all-wheel drive adds winter weather capability. Chevrolet offers a choice of four-cylinder or V6 engine for the Equinox.
The standard 2.4-liter four-cylinder uses direct injection for more power and better fuel economy. It's smoother than most four-cylinders, and we think it's a capable engine. The 2014 Equinox with the 2.4-liter engine and front-wheel drive gets an EPA-estimated 22/32 mpg City/Highway; the 2014 Equinox AWD is rated at 20/29 mpg. With front-drive, in particular, that's an impressively thrifty highway figure for this class.
Gas mileage drops considerably with the optional 3.6-liter V6 engine, which generates 301 horsepower and 272 pound-feet of torque. The 2014 Equinox with 3.6-liter V6 is EPA-estimated at 17/24 mpg City/Highway. With all-wheel drive, the 2014 Equinox AWD is rated 16/23 mpg. Regular gasoline is recommended for all Equinox models; more-expensive Premium is not needed.
We found the more powerful V6 makes upgrading to the bigger engine worthwhile, in spite of the extra cost, though you can expect to spend considerably more on fuel. With either engine, the 6-speed automatic transmission helps delivers a smooth driving experience.
The current Equinox is the second-generation version, which was launched as a 2010 model. Standard features include an eight-way adjustable front passenger seat and a universal garage door opener. Four-cylinder models include an active noise cancellation system. The 2014 Equinox LTZ is available with Lane Departure Warning and Forward Collision Alert, which can help the driver avoid an accident.
Equinox offers good ride quality, absorbing sharp bumps without disrupting passenger comfort, whether it's fitted with the 17-inch or 18-inch wheels. Though an Equinox is not sporty, its handling is on par with that of the Honda CR-V and Toyota RAV4.
Interior roominess is one of its major strengths, with up to 39.9 inches of legroom in the back seat. Equinox has plenty of room for up to five passengers and their cargo. The front seats are comfortable and supportive, and they have 10 inches of travel, so drivers of all sizes will fit. The useful MultiFlex rear seat offers nearly eight inches of fore/aft travel, so tall passengers can ride in back or the driver can push the rear seat forward to carry more cargo.
A closed storage box is located under the center armrest. Chrome option packages are available for LT model. The 1LT package includes door handles, heated power mirrors, 18-inch chrome-clad aluminum wheels, and a driver convenience group. Upper models include a rearview camera.
Equinox has an attractively designed cabin, but the sea of hard plastics and the lack of noise isolation impart a cost-cutting feel. Some nice amenities are available, though, including ice blue ambient lighting, dual-zone automatic climate control, a power liftgate, and a dual-player, dual-screen rear DVD entertainment system with displays in the front seatbacks. Chevrolet's MyLink touchscreen infotainment system is also available; it provides a link to apps through smartphones.
That roomy cabin and reasonable pricing make the Chevrolet Equinox an attractive alternative to smaller compact crossovers that cost about the same. Buyers get some tempting amenities, unexpected in this price range.