2014 Chevrolet Impala Introduction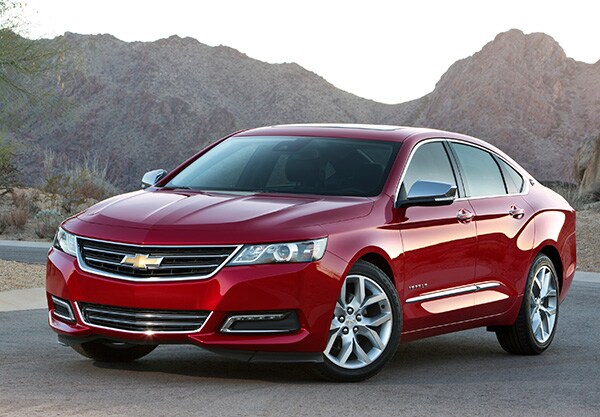 Forget what you know about the Chevrolet Impala. Originally launched as a 1958 model, the Impala name boasts a long, storied history. Though of late it was often dismissed as a mediocre rental car, the Impala is back with a vengeance, sporting a sophisticated design, high-quality interior and spot-on driving dynamics.
Chevrolet is now calling the five-passenger Impala a full-size sedan, though it was previously classified as a midsize. Surprisingly stylish looks grab you from the first glance, and a high-quality interior with many thoughtful touches keep driver and passengers happy in the cabin.
The 2014 Chevrolet Impala is bigger, quieter and more efficient than before. Its wheelbase has been stretched by a little more than an inch, yet it offers nearly six more inches in combined front and rear legroom. The 2014 Impala is front-wheel drive and shares GM's Epsilon platform with the Buick LaCrosse, Buick Regal, Cadillac XTS and Chevrolet Malibu.
Three engine choices range from powerful to practical. General Motors' familiar direct injection 3.6-liter V6 is the beefiest of the bunch, with 305 horsepower and 264 pound-feet of torque. A 2.5-liter Ecotec inline-4 makes 196 hp and 145 lb.-ft., while a 2.4-liter inline-4 with GM's eAssist mild hybrid system is good for 182 hp and 172 lb.-ft. All variants use GM's 6-speed Hydra-Matic transmission. The V6 will roll off the assembly line first, followed 2.5-liter 4-cylinder, with the eAssist version expected a few months after that.
EPA fuel economy ratings for the V6 are 19/29 mpg City/Highway. EPA fuel economy estimates for the four-cylinders were unofficial at press time, but Chevrolet expected the 2.5-liter to achieve 21/31 mpg city/highway, and the 2.4-liter with eAssist to yield 25/35 mpg. By way of comparison, the old Impala got an EPA-estimated 18/29 mpg with its standard 3.5-liter V6 and 17/27 mpg with the bigger, 3.9-liter V6.
Better aerodynamics help the 2014 Impala with fuel economy, in part aided by new wind blockers positioned in front of the tires, which look like mud flaps put on the wrong way. Four-cylinder models get active aero shutter grille and underbody aero panels to make the 2014 Impala even more slippery. Efficiency is aided by new electric power steering that draws energy only when the steering wheel is turned.
A quiet ride is one of the 2014 Impala's strong suits. Acoustic glass in the front side windows, extra foam in the body, and additional sound deadening material in the floor pan and trunk help to keep occupants feeling like they're in their own little bubble.
Four-wheel disc brakes with ABS and brake assist come standard on all models, and rotors have a special coating that resist rust, which not only keep them shiny, but also reduce shudder under braking and, according to Chevrolet, doubles the life expectancy of the rotor to 80,000 miles.
Several electronic safety systems are optional on mid-range Impala LT models and standard on Impala LTZ trims, including forward collision alert, lane departure warning, side blind zone alert, rear cross traffic alert and rear park assist. Top-of-the-line Impala LTZ trims with the V6 engine can also be equipped with full-range adaptive cruise control with collision mitigation braking and brake pre-fill. With this technology, the Impala will automatically keep a safe distance from the car in front while cruising, and will slow down or even stop itself if a collision is imminent.
Chevrolet hopes the Impala will end up in more driveways, not just in rental car lots. Nearly 75 percent of last-generation Impalas were attributed to fleet (mostly rental car) sales.
Although competitors to the outgoing iteration of the Impala were midsize sedans such as the Toyota Camry, the all-new 2014 Chevrolet Impala competes with full-size flagship sedans including the Toyota Avalon, Ford Taurus, Hyundai Azera.