2014 Chevrolet Silverado Driving Impressions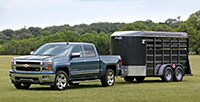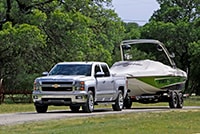 The new 2014 Chevy Silverado drives and does pickup chores well. We think it has the most realistic base engine in the business, a new 4.3-liter V6.
As a competitor ad points out torque is what gets the job done in pickups. The new 4.3-liter V6's 305 pound-feet is more than Ford's 3.7-liter (278 lb-ft), Ram's 3.6-liter (269 lb-ft), or Toyota's 4-liter (278 lb-ft). And the Silverado's 4.3-liter gives up no more than 20 hp to Ford or Ram's high-revving V6s. Ram's 8-speed gearbox helps with torque multiplication and highway mileage. Chevy 4.3-liter estimates weren't available at posting, but considering Chevy's 5.3-liter V8 ratings (16/23 mpg for 2WD) nearly match Ford's 3.7-liter V6 (17/23 mpg 2WD) and Ram's 3.6-liter (17/25 mpg SLT 2WD) your load and driving style will have far more effect on fuel economy than which brand you choose.
The 2014 Silverado's 4.3-liter V6 pulled a dual-axle travel trailer for us with no problem, whether or not we engaged Tow/Haul. It revs to just 5500 rpm, at least 1000 less than the Ford or Ram, generating less noise and vibration. We were pleasantly surprised by the very quiet, smooth idle at just 500 rpm, a lower speed than the V8. Not towing, on an undulating course with traffic, we managed almost 18 mpg in the V6, not a bad number given locale and driving style.
The new 5.3-liter V8 makes the Silverado faster, of course, and its shorter gearing enables top trailer ratings to 11,500 pounds. The V8 doesn't have an obvious advantage in smoothness over the V6. Both engines will switch to four-cylinder operation unnoticed (unless you watch the dash carefully) when power isn't needed, and since 2/3 of the V6 is a bigger engine than 1/2 of the V8, the V6 appears to run as a four more often. Were the 4.3 offered with the same axle ratios as the V8 we'd recommend it even more, and unless you're towing more than 5000 pounds frequently through hilly terrain the V6 will be more than adequate. If you don't think so, we'll remind you a Chevy dually with a 7.4-liter V8 less than 25 years ago had only 230 horsepower. It had 80 lb-ft more torque, but just half the gears so less torque got to the wheels.
Both 4.3 and 5.3 are E85-capable, but fuel economy with E85 ethanol drops about 30 percent over gasoline. The 6.2-liter V8 requires Premium fuel.
Silverado ranks well on maximum payload figures, with more than a ton of capacity on base Regular cabs and from 1751 pounds to 2101 pounds on four-doors. Like most half-ton pickups, we found it worked at about 2/3 of capacity and expect the ride to suffer beyond that.
Tow ratings are up too, to 10,200 pounds on Regular cab and 11,500 on Double cab. Crew Cab ratings are about 200 pounds lower than Double Cab as are 4WD, except on Crew V6 (6600 pounds) because of a better axle ratio. Remember that tow ratings are not always directly comparable among brands because the only industry-wide standard is SAE J2807, and only Toyota certifies its ratings to it.
Even a short drive shows the Silverado to be more refined, quieter, and delivering a better ride, particularly on choppy road surfaces that make trucks shake and things like sharp bumps in corners that cause the rear end to skip sideways. Ride quality will vary among the 10 tires and various suspension choices. As before, we found the Z71 package designed for off-road use delivers the best blend of handling and comfort on rural highways, ranch roads, pockmarked infrastructure and expansion-heaved expressways most pickups travel.
Steering is electric-assist now and needs the same space for a U-turn as last year's despite wider tires and track. It requires little effort at low speeds, doesn't lose assist in heavy maneuvering like corkscrewing a trailer into a camp site, weights up nicely with speed and tracks well. We noticed it doesn't seem to return to center quite as fast, but it's a subtle difference.
All-disc brakes have good feel and retarding, and a new material is said to last much longer; only time will tell.
The integrated trailer brake controller is well worth the price; even if your trailer has surge brakes consider it for resale value or loaning the truck to others.