2014 Chevrolet Silverado Introduction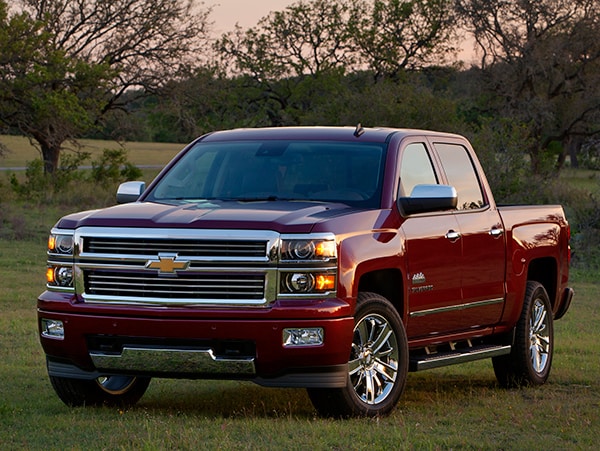 The 2014 Chevrolet Silverado is the next generation of Chevrolet's best-selling vehicle. Although some things look and sound familiar, like the three engines that are all-new despite being the same size as their predecessors, virtually everything has evolved to the next level or been replaced.
Substantial bodywork and a larger grille for cooling match a more imposing facade with better aerodynamic properties, while the frame underneath the 2014 Silverado has been stiffened despite a 30-pound weight loss. By most measures, the 2014 Silverado is lighter than the 2013 model, but it hauls and tows more than before.
The 2014 Chevrolet Silverado comes with a roomier cabin with more luxury and safety features in a stylish new design. There's more room up front, and 2014 Silverado Crew Cabs offer more space in back than previously. The driver gets excellent instrumentation and MyLink telematics.
Silverado base price is $23,590, according to Chevrolet, but that's almost a meaningless number because anything you buy will cost more.
The 2014 Chevrolet Silverado High Country model is the fanciest Silverado to date. The 2014 Chevrolet Silverado High Country is directed at Ford F-150 King Ranch, Ram Longhorn, Toyota and Tundra 1794.
For the first time, the mid-size cab choice comes with a center side pillar and four conventionally opening doors. This generally improves rollover crash performance, makes a quieter, less squeak-prone interior and is easier to load in tight quarters. Chevrolet has dropped the Extended Cab moniker and calls this the Double Cab, the name Toyota has used on its four-door pickups for more than a decade.
The three new engines are dubbed EcoTec3 because of three shared features: direct injection, active fuel management and variable cam timing. Often reserved for the thirstiest or most expensive engines on some trucks, these come standard on every 2014 Silverado.
The new 4.3-liter V6 is standard on every cab/bed combo. At 285 horsepower and 305 pound-feet of torque it rates just 30 less (of each) than last year's 5.3-liter V8 and out-grunts most competitor base V6s.
The new 5.3-liter V8 is rated at 355 horsepower and 383 pound-feet of torque. That's right in line with Ford's 5-liter V8, and 2014 Silverado Crew Cabs with the 5.3-liter V8 match or better competitors for top payload and towing ratings. Figures for the 6.2-liter V8 had not been released at press time but were expected to bring at least 420 hp and 435 lb-ft of torque.
All Silverados come with a 6-speed automatic and rear-wheel drive (2WD) or four-wheel drive (4WD).
Suspension and braking systems are updates on current designs; external dimensions haven't changed but the track (width between left and right wheels) has increased aiding both stability and aesthetics. The 2014 Silverado uses electric power steering.
The new Silverado drives like a more refined version of the last one, even though it will tow more, go quicker or get better mileage. A very quiet cabin means happier passengers and less fatigue for owner/operators, with the Double Cab likely to show the most improvement.
The only thing we see lacking in the new Silverado is that elusive intangible that grabs people. Chasing power and fuel economy Chevrolet used different technologies than Ford's EcoBoost (though GM's direct-injection turbocharged car engines preceded EcoBoost by years). And the new Silverado doesn't offer the flashy 8-speed automatic or optional air suspension of the Ram. But trucks are made for people and to tow and carry things, and if the numbers are accurate the Silverado is a player.