2014 Chevrolet Silverado Summary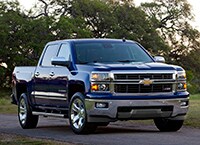 With plenty of choices to keep up with the competition, the 2014 Chevy Silverado adds considerable refinement, efficiency and comfort to a new look, new cabin and new engines. By pull-and-carry truck standards, fuel economy and features it is absolutely competitive, whether or not you're loyal to bow-ties.
G.R. Whale filed this report after driving various Silverado Crew Cabs in the Texas hill country.