2014 Chevrolet Silverado Walk Around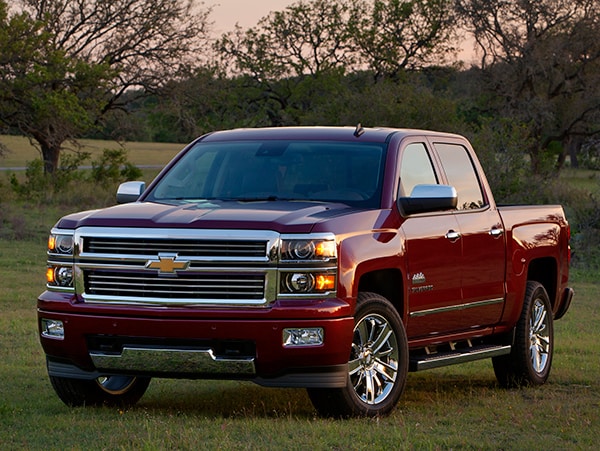 Teasing the bigger-is-better trend, the all-new 2014 Chevrolet Silverado looks bigger than the last one but is virtually identical in exterior dimensions; for example, it is one-tenth of an inch wider. The most obvious changes are up front and the rear doors.
A taller grille, with more chrome as price rises, and revised bumper allow more powertrain cooling, but with fewer pieces and tighter fits, more aerodynamic than before. The windshield lays back another degree and fairs into the roof such that frontal area, the other component of aerodynamic resistance, is no larger than last year's.
The new styling will sit well with conservative pickup buyers. The new Silverado is instantly identifiable as a Chevy even if not wearing the big badge. At least one observer initially thought the 2013 Silverado next to it was just a different trim level.
Massive rectangular wheel openings consume the majority of the bed side panels and reinforce the GM impression; wider wheels help fill them, but there's still a lot of open space around the tires. In profile, the bed section is almost military in its geometric execution.
The B-pillar, the post between the front and rear doors, has been moved forward four inches. This may have negative implications only for tall, very broad shouldered types, but is outweighed by the superior access through the rear door, especially for boots or big toolboxes headed for the floor.
On most models the rear bumper sports a step in each corner and a corresponding handhold in the side rail for easier bed entry. High Country's painted bumper loses it, but a chrome step bumper is available. Most versions offer LEDs under the side rails of the bed, activated by the shower-head bed light switch, for illumination beneath bed covers. And many have a tailgate damped for both up and down motion, a feature you'll really appreciate when you remove the gate for something and find what it really weighs.
Outside mirrors have slightly less area but you won't notice; you will like the built-in convex mirror on the driver-side. A towing mirror option will be available but was not seen nor evaluated.
Myriad trims, chrome packages, three wheel diameters, 10 tire choices and plenty of stickers yield many appearance permutations, even before adding accessories. One of our sample trucks listed a chrome exhaust tip at $185; for that amount we'd expect polished stainless steel.
Bigger-and-better has been applied to badging, too, with enough large-scale bow-ties and nameplates you might have to downsize your magnetic business signs so they still fit and stick.
It's worth noting that 4WD versions are about the same roof height as 2WD because some other 4WD pickups are inches higher and may not fit the parking garages you frequent.
Interior
The 2014 Silverado cabin is comfortable, quiet and can be packed with enough features and USB plugs for each passenger to have one. The only parts that might have been pulled straight from the 2103 are the shift lever and some door switches.
A big, more segmented dashboard dominates the cab like never before. Outboard of the AC vent left is a switch panel convenient if you rest your arm on the door. Switches for trailer brakes are at the top, ideal for adjusting while you watch for locked wheels in the mirror. On 4WD models, near-identical round knobs for are used for selecting 2WD/4WD or turning on the headlights. Be sure you grab the correct one if you don't use Auto for both.
Inboard is a steering wheel slightly canted and off center for crashworthiness. It tilts on all, telescopes on some, but each function uses a separate lever and isn't easily done in one fluid motion. One observer noted that the big outboard switch panel feels like it crowds the wheel and gauges against the center, but that looks worse in pictures than from the seat.
Instrumentation is very good. After a sleepy, multi-seconds gauge-check sweep the numbered, analog displays swing to life and respond quickly; watch the oil pressure carefully and you'll feel these are indeed connected to something. The tach has no redline but neither the 4.3 nor 5.3 went beyond 5550 on their own, and the 140-mph speedometer is likely 25-40 beyond a tire-imposed electronic limit. Transmission fluid temperature and fuel economy are among the broad data available in the screen under the smaller gauges.
The central panel requires nearly a third of the real estate, logically laid out with vents, touchscreen, audio and climate controls. The MyLink infotainment navigation system maps well, the Bose stereo system sounds good, and we didn't sample voice operation given limited cell service. As with any telematics the MyLink should be tried thoroughly, while parked at first then moving (some functions will disable in motion), to see if you prefer all those features or simply your smartphone paired via Bluetooth.
Accessory switches (pedals, bed light, park sense, etc.) are along the bottom and symmetrically laid out. There are no blank spaces to either show you didn't get something or to fit your own aftermarket switches.
Dual gloveboxes cover the right third of the dash. Doors have up to three storage locations in each, and the center console has a variety of shapes and sizes, if not one big cooler-size bin. The top-line full-length console has in total five USB ports, three 12-volt power points, an SD card slot and a grounded 110-VAC outlet, with another in the back optional. Taller drivers found the trim panels on the console and door inconveniently at knee height, while other sizes found the center armrest too high even with the seat at full height.
The 40/20/40 front bench seat option has good storage in the fold-down backrest-becomes-armrest, with more storage space beneath the seat cushion. With minimal padding and no shoulder belt it works better as console than seat.
Front seats are very comfortable and easy to climb into (front grab handles are mounted to steel structure). The rear seat on Extended cab models will carry adults in a pinch, better if all on board are average stature or smaller. Crew cab rear seats rival the front for comfort except the headrests wouldn't keep even a 5-foot, 9-inch rider's head off the rear window. There is no center headrest, and LATCH anchors will fit up to two child seats in any of the three seating positions.
You can now get heated seats on cloth upholstery models. High Country leather is heated and cooled in front. Heated steering wheels wisely have the switch in plain sight on the spoke, not buried on the column or in a touchscreen menu.
Outward visibility is slightly less than before because the windshield pillars appear wider and to a lesser extent the windshield top feels lower relative seating position. However, the edges of the hood are better defined and new options mitigate other aspects.
Silverado now offers forward collision warning, lane departure warning and the seat-vibration alert introduced by Cadillac last year. How and when you're alerted can be adjusted and turned off, handy since our trail drive at less than 10 mph buzzed our jeans every time the truck sensed a collision with a deep rut, rock, or bush in our path.