2014 Chevrolet Spark EV Walk Around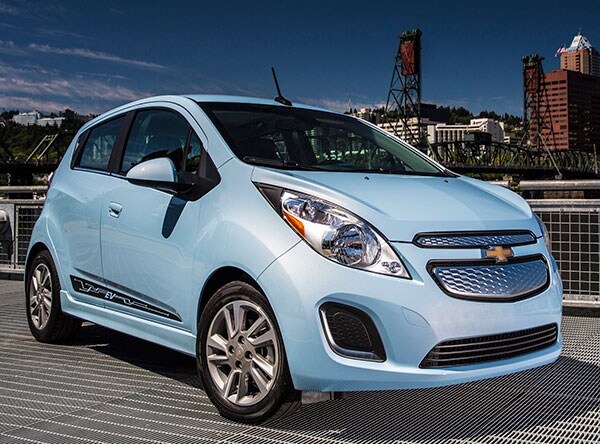 Some call Spark ugly, a few call it cute. It has edgy subcompact styling. It does have a hint of pocket rocket to it.
It's a short high box, but its rakish character lines and stylish slanting headlamps give it a dynamic, if nose-heavy, look. The EV closes up the big gaping grille of the Spark, leaving a big gaping silver shape that almost breaks our hearts, over missed opportunity. The hood is shapely and could give the Spark such style, if there weren't a piece of silver plastic pasted on its front edge. It's the top part of your Chevy emblem/identity.
Spark's rear window is chopped and vertical, over bulbous twin taillights. The tail end's edge goes along with the front.
Spark is eight inches narrower and three feet shorter than the Chevrolet Cruze. It's 7 inches longer than a Fiat 500e and 15 inches shorter than a Honda Fit EV, the two main competitors, and 10 inches shorter than the BMW i3. Still the Spark has five doors and four full-sized seats, as neither the Fiat 500 nor the Scion iQ do.
The Spark EV looks like the Spark but there are aerodynamic differences, in addition to the closed grille. Its impressive 0.326 coefficient of drag comes from many things. There are underbody panels, tire air deflectors and aero exterior mirrors, plus 15-inch aluminum wheels and low rolling resistance tires. An active shutter system controls airflow through the lower intake opening. The rocker panels are lower and wider to increase tire coverage for improved aerodynamics. Rear diffusers optimize airflow under the vehicle, and there's a unique rear spoiler. There's an electric charge portal over the driver's side front wheel well.
Interior
The instrumentation is excellent, as far as the delivery of range and usage info. You get what you need without distraction, including a clear digital speedometer There is some superfluous curiosity stuff and distracting graphics, but you don't have to view it. Default settings on the instruments are where you last set them.
Distraction is an especially important issue in an EV, because it's a city car and city driving requires total focus. The Spark doesn't go too far.
The heating and cooling systems were taken from the Volt, so they're proven reliable. It was a hot day so we couldn't test heating. Air conditioning seriously sucks sparks, so we didn't use it. Another journalist had to drive our car that day, and we didn't want to steal his or her electricity.
The front leatherette seats are very comfortable, with good lateral support and snugness, although they're not quite sporty. There were no 1LT Sparks with fabric seats at the launch, but no matter, leatherette is the way to go. It feels just like leather and the cost difference is minimal.
There's enough legroom in the rear, even with a tall driver; the 35.2 inches is only one less than a Honda Civic. The rear seats are flat and hard.
Spark is roomy for its size, with 86.3 cubic feet of passenger volume, and 23.4 cubic feet for cargo with the rear seat folded, 9.6 cubic feet with it up. The seat folds almost flat, not quite as flat as the gas Spark, because the battery pack lives under the rear seat. There is no compromise with the cargo room floor, with good space for groceries.
The integrated center stack contains a 7-inch full-color MyLink touch-screen infotainment system with decent graphics, although the audio touch-controls demand marksmanship. The same controls on the steering wheel make tuning less problematic. The six-speaker audio system is especially good for a subcompact. Various knobs are LED-lit.
The capabilities of the system, in meeting the needs of advanced inner-city connectivity mavens, are powerful. In addition to AM/FM, XM/Sirius Satellite Radio and a digital clock, Bluetooth streaming audio for music and selected phones is standard, along with Pandora and OnStar with collision notification.
Storage options include a center console bin, door pocket bottle holders, a passenger storage tray and four cup holders, two each in the front and rear. An open storage area near the USB port provides a convenient location for a cell phone or portable music player.