2014 Chevrolet Traverse Driving Impressions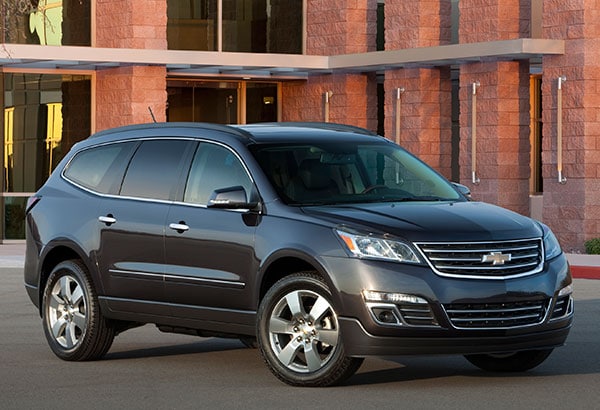 Chevrolet Traverse is big, closely matching dimensions of SUVs like the Chevy Tahoe and Ford Expedition. However, lacking the truck foundation of an SUV, the Traverse is about 500 pounds lighter, so it handles and rides better, and gets slightly better mileage (1-2 mpg) than a Tahoe.
Despite its two-and-a-half ton curb weight, the Traverse is surprisingly nimble. It handles more like a family sedan than a Tahoe. While the steering is somewhat light, it's direct and responsive, not flaccid and slow like most four-wheel-drive SUVs.
The all-wheel-drive system is transparent to the driver and will aid accelerating traction in snow (though it won't stop any better), but it's not designed for off-road use.
The ride is comfortable and stable. The Traverse lacks the floppiness and bounding common in truck-based SUVs, but load both to their limit and the Traverse gives up more. It does not pound over bumps, even with the available 20-inch wheels. It falls right where you expect between van comfort and SUV utility. The brakes are easy to modulate and provide worry-free emergency stops of average distance.
Still, the Traverse sits fairly high and weighs a lot, so occupants notice some head toss in turns and the highway ride is less stable than in a family sedan or a smaller, sportier crossover. The overall size also makes it somewhat bulky in parking-lot and parallel parking, as its turning ability is inferior to the Tahoe, Odyssey and some full-size pickup trucks.
Power comes from GM's dual-overhead cam 3.6-liter V6, which makes 281 horsepower. In the LTZ, the engine has dual exhausts, which raises output to 288 horsepower. Coupled to a 6-speed automatic transmission, the V6 motivates the Traverse quite ably. Throttle response is predictable and smooth. Shifts also are smooth, but the transmission is sometimes too willing to shift to the next gear, and reluctant to downshift, leaving you wanting more power when you need it for passing or hills.
The 3.6-liter V6 also provides better fuel economy than you'd get in most truck-based SUVs. EPA fuel economy ratings for front-drive models are 17/24 mpg City/Highway. With all-wheel drive, those numbers drop to 16/23 mpg.
Towing capacity is 5,200 pounds with two people and no cargo. If you plan on towing more than 4,000 pounds with a load, pay extra for a Tahoe: Its V8 engine has 30 horsepower and 65 pound-feet of torque over the V6, at a cost of 1-2 mpg. Tahoe tows 3,000 pounds more, carries more people and cargo weight, and offers ground clearance and low-range 4WD for your remote campground or boat ramp.
However, if you don't need that 4WD or towing ability (or 9 seatbelts), and you don't want the space and fuel-efficiency of a van, the Traverse's pleasant road manners and interior space will get the job done.