2014 Chevrolet Traverse Introduction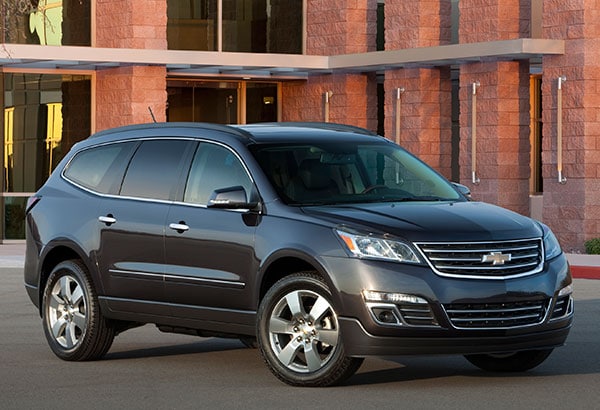 The Chevrolet Traverse is a large crossover SUV, able to haul a truckload of cargo or up to eight people. Built more like a car than a truck, Traverse uses front-wheel drive and is much lighter than a Tahoe. As a result, Traverse rides like a car, handles well and gets decent fuel economy for its size.
All-wheel drive is optional to improve stability on winter roads and, if only by a bit, expand the range of surfaces the Traverse can traverse.
Traverse was launched as an all-new model for the 2009 model year. The 2013 Traverse got new front and rear styling, plus updated infotainment systems and cabin materials.
For 2014, Traverse gained Forward Collision Alert and Lane Departure Warning. Both features are standard on the LTZ version and available for the 2LT. Each alerts the driver with visual cues on the dashboard, as well as audible signals. All 2014 Traverse models added dual charge-only USB ports at the rear of the center console, for use by second-row occupants.
We found the Chevrolet Traverse to be an excellent family vehicle. It qualifies as a modern station wagon.
Underway, Traverse feels more like a big sedan than a truck. It rides comfortably and is much more stable than truck-based SUVs, which tend to lean in corners and bound over undulations. The steering is direct and responsive, very light in effort, and the brakes are easy to modulate for nice smooth stops. Drivers moving out of a compact or midsize SUV may find it bulky when parking, while folks trading down from full-size truck-based SUVs are likely to consider Traverse surpassingly carlike and nimble. It can tow a bass boat, but isn't equipped for heavy trailering.
Fuel economy for the 2014 Chevrolet Traverse is an EPA-estimated 17/24 mpg City/Highway with front-wheel drive, and 16/23 with all-wheel drive. That's hardly stellar, but it has to be measured against the ability to traverse with six or seven of your friends, without being seen in a van.
Power is provided by a 3.6-liter V6, developing 281 horsepower with a single exhaust or 288 with dual exhaust (on LTZ models). The V6 delivers strong power, though it lacks the torque of a V8. A smooth-shifting 6-speed automatic transmission is standard.
Inside Traverse you'll find plenty of space: more than a Tahoe but less than a van, which has similar outside dimensions. Space in the first and second rows is plentiful. The third row is bigger than most, and is even plausible for adults. Cloth or leather, the front seats are comfortable and supportive. The second- and third-row seats fold flat to open up a generous cargo area. Even with all the seats up, there is enough room behind the third row for a week's worth of groceries, and an available power liftgate makes access easy.
Controls are easy to reach and operate. The rearview camera, which comes standard, makes backing up this big vehicle easier and safer. The dashboard is attractive, even if there's more obvious plastic inside than we'd like at this price point.
For more deluxe cabin surroundings, consider the Buick Enclave or GMC Acadia, which dress the same mechanical platform in fancier furnishings. Otherwise, the Traverse may be just your ticket for moving people and cargo. More stylish and thirsty than a minivan, more efficient than a truck-based SUV, it's kind of like a big family sedan with a glassed-in cargo bay in back. We used to call these types of vehicles station wagons.