2014 Chevrolet Volt Introduction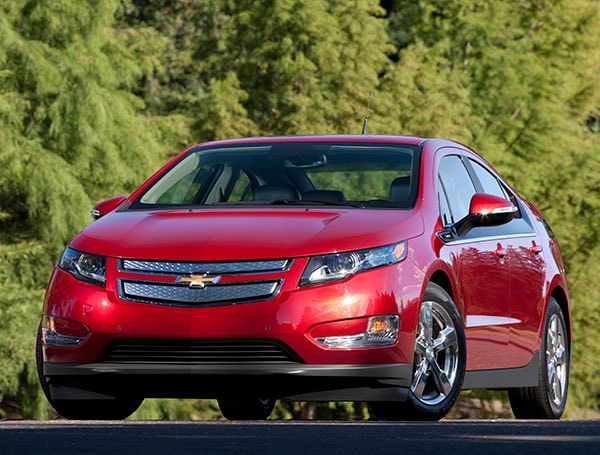 Plug-in hybrids such as the Chevrolet Volt offer the efficiency of an electric car and the certainty of a gasoline engine. The Volt can run on pure electricity, but it carries its own gas-powered generator; so when it runs out of juice, it can keep going. Unlike fully electric cars, it won't leave you on the side of the road wishing for an extension cord.
Volt's four-seat, hatchback design makes it a very good all-purpose vehicle, and its electrified powertrain makes for very low operating costs. From the start, we found the Chevrolet Volt fun to drive. However, its initial sticker price made it a pricey investment, even after federal and state tax credits. For 2014, however, the price was lowered about $5,000.
For 2013, a new Hold button allowed the driver to manually choose whether to use the Volt's available electric power immediately, or save it for later use. This can help maximize electric range in stop-and-go city driving. The Chevrolet Volt gets an EPA-estimated range of up to 38 miles running on the battery alone. After that, the engine kicks in and you're driving a regular gasoline-powered car.
Options include a moderately priced navigation system that uses Chevrolet's MyLink interface, as well as a low-emissions package that gives Volt drivers in California and New York access to carpool and HOV lanes when driving alone. A Comfort Package includes heated front seats and a leather-wrapped steering wheel. The optional Safety Package 1 includes an auto-dimming rearview mirror, rear park assist and rearview camera. Safety Package 2 includes front park assist, forward collision alert and lane departure warning.
At the heart of the Chevrolet Volt is a 111-kilowatt electric motor that puts out the equivalent of 149 horsepower and 273 pound-feet of torque. It's powered by a T-shaped lithium-ion battery mounted under the center console and rear seat. The 435-pound battery has its own heating and cooling system to operate efficiently in extremes of temperature. The Volt will run solely on electricity until it's 70 percent depleted; then, a 1.4-liter four-cylinder gasoline engine kicks in to power the electric motor.
The Volt gets an EPA rating of 98 miles per gallon equivalent (MPGe) and 35/40 mpg City/Highway using the gasoline engine.
Anyone who drives less than 30 miles a day should never have to put gas in the Volt. Drivers who can plug it in for charging while at work can double its practical electric range. Drivers who do this say they use so little gas that they have to worry about gasoline going bad in the tank.
Combined with the gasoline engine, the Volt has a total range of about 380 miles. With a 240-volt fast charger, the Volt can fully charge in about four hours. With a regular 120-volt household outlet, the Volt takes anywhere from 10 to 16 hours to charge, depending on temperature.
Driving the front-wheel-drive Volt is really no different from driving any gasoline-powered compact or mid-size car, and the Volt is more energetic and enjoyable than some of them. Its handling is much better than that of the all-electric Nissan Leaf.
Just a couple of years ago, the Volt was the only plug-in hybrid on the market. That's changed. Ford's C-MAX plug-in hybrid offers up to 21 miles in electric mode only, and can go up to 600 miles with a fully charged battery and a full tank of gas. While it can't go as far in pure EV mode, C-MAX offers nearly double the amount of total cargo space. The Toyota Prius plug-in, priced below $30,000 for 2014, has the most cargo space of the bunch, but a far shorter all-electric range.
Volt and other plug-in hybrids qualify for a federal rebate, plus additional credits in some states.