2014 Chrysler 300 Driving Impressions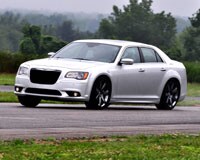 Standard engine in Chrysler 300 models is the 3.6-liter Pentastar V6 with double overhead cams, 24 valves, and variable valve timing that aids flexibility and fuel economy. The V6 puts out 292 horsepower at 6350 rpm, and 260 pound-feet of torque at 4800 rpm. (In the 300S, output rises to 300 hp.)
Like many modern engines, the V6 makes power high up the rev band, so don't be afraid to rev it. The V6 is plenty smooth and delivers strong propulsion. With gentle throttle it will get into top gear at 50 mph with the engine running just 1000 rpm, allowing level interstate cruising on minimal fuel.
Our 2014 Chrysler 300C John Varratos Luxury Edition, equipped with the V6 and all-wheel drive, emphasizes restrained elegance inside the cabin, led by lush leather upholstery. Performance from the V6 is close to startling, reminiscent of a powerful Hemi V8 of the recent past but refined, quiet, and thrifty for a large car (at least on the highway).
Acceleration with the V6 is aided by the 8-speed transmission, but some low-speed, lower-gear shifts weren't nearly as smooth as expected. Shifting rather curtly on those occasions, the gearchanges may be accompanied by a momentary but well-defined little jolt; and at times, those shifts drag out a bit instead of finishing promptly. This phenomenon helps give the V6 the feel of a performance V8, but that's not a benefit for every luxury-sedan buyer. Waiting to see if the next low-speed shift will be overly noticeable isn't the route toward fully relaxed driving.
The 8-speed's shifter has four positions (PRND). John Varvatos and 300S model incorporate a selectable Sport mode, with paddle shifters for manual operation, . The stubby T-handle looks like an inverted putter head and is essentially an electronic switch. As a result, the same motion is used for changing from Drive to Sport or Sport to Drive, and it's all too easy to get Park when you want Reverse by pushing once too often. It's even possible to wind up in Reverse when that's not your choice. You can't rely on feel, but must watch the instrument-panel indicator to make sure which gear you're in. If the 300 is your only car you'll grow accustomed; if you drive more than one automatic, then acclimation will take longer.
With the standard 8-speed automatic, V6 models rate an EPA-estimated 19/31 City/Highway miles per gallon. All-wheel drive drops the estimate to 18/27 mpg.
At one point, our test Luxury Edition's information display went crazy. While stopping at a light, waiting to turn right, the transmission seemed to issue a momentary jerk. The display suddenly warned us to Service AWD, alternating with a flashing notice that the FCW (forward collision warning) was now Off. All seemed to operate normally, so we proceeded despite the warnings. When shutting off the engine at a parking spot, yet another flash appeared, stating that the gearshift, of all things, needed service. After restarting the engine, the warnings disappeared, so we'll chalk this one up to a computer glitch that managed to reset itself.
The 300C and 300S V8 come with the 5.7-liter Hemi V8 engine, generating 363 horsepower and 394 foot-pounds of torque at lower rpm than the V6. Paired with a 5-speed automatic it rates 16/25/19 mpg City/Highway/Combined (15/23 mpg with all-wheel drive). Mid-grade gasoline is specified. While the extra 71 horses over the V6 and infectious sound get the headlines, it's the 134 pound-feet of added torque that shows up far more often. Not many $40,000 four-doors will launch as hard as an all-wheel-drive Hemi.
We've sampled everything from the base, cloth-upholstered V6 to the hairy-chested (but buttoned-up) SRT, and for most drivers the V6 will be more than adequate. It has sufficient power when you need it and uses minimal fuel when you don't, and never makes untoward noise or vibration.
We exercised, pushed and stressed a group of Chrysler 300s in hills and valleys, sinewy mountain roads and a racetrack, and found them to be wonderful traveling companions. The variable-ratio electro-hydraulic power steering system has a lovely, firm feel to it, as though it's actually connected to and directing something down there on the road surface. The car turns in with authority and without objectionable body roll. On S models, the steering is faster and effort is increased, perfectly matching that V8 model's composure.
Ride quality is smooth, comfortable and quiet. The cabin has been quieted down considerably with the addition of an acoustic bellypan under the car, acoustic material in the wheel wells and pillars, laminated front glass, and multiple door seals. An acoustic wrap around the complete interior blocks out noise from the mechanical systems, the wind and the tires. Chrysler claims it's quieter than a Lexus LS460; an admirable claim, but we can say only that it's clear enough to hear a trumpet soloist breathe while the car is gliding along at high speed.
The anti-lock brake package with electronic brake-force distribution has everything you could ask for in terms of power, pedal modulation, and emergency capabilities. It's the largest component of a very complete safety package that includes traction control, stability control, and front, side, roof and driver knee air bags.
The SRT pushes the realm of super sedan. With a 470-horsepower big-bore V8, solid-shifting 5-speed automatic, adaptive dampers from Bilstein (on Premium model), four-piston Brembo brakes and lighter forged alloy wheels with fairly sticky 20-inch tires, the SRT adds to every dynamic. It's muted enough to make a fast, comfortable touring machine, yet amped-up enough to make quick work of any road. The 5-speed automatic does what it's told but isn't as advanced as much of the competition's 6-, 7-, and 8-speeds. Fuel economy is respectable only compared to other super-sedans, and it isn't as fast as a Cadillac CTS-V or Mercedes E63 AMG. However, using all that those cars can deliver usually requires a racetrack. Also, the SRT costs $15,000-$40,000 less, and a set of replacement tires costs about two-thirds that of the other cars.
Stand on the gas and the SRT accelerates like a rocket, with truckloads of torque. It feels like a modern muscle car. When cruising, however, it comes up short in the refinement category. The big-horsepower versions of all of these big, luxury hot rods lack some of the refinement of the less-stressed versions, but this seems particularly true with the Chrysler 300 SRT. There's a clunky factor here. If we're going to suffer the downsides of a hot rod, we prefer the looks and character of the Dodge Challenger or Charger to the 300 SRT.