2014 Chrysler 300 Introduction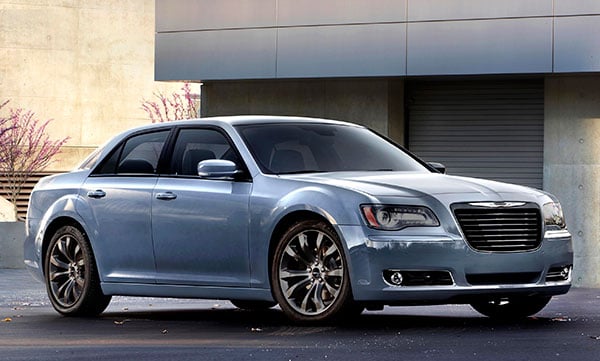 The Chrysler 300 is a full-size four-door sedan that comes in a variety of models to suit an owner's preference for style or performance, or to provide a specific set of features. Whether V6 or V8 and regardless of model, the Chrysler 300 is a roomy, comfortable, quiet cruiser.
Chrysler 300 comes with rear-wheel drive or all-wheel drive. Apart from its corporate relative, the Dodge Charger, the Chrysler 300 is the only rear-wheel-drive sedan we can think of that you can get for less than $35,000. Most are front-wheel drive.
Chrysler 300 carries over unchanged for 2014. It was last re-engineered and restyled for 2011. Several models joined the lineup for 2012, a sporty Chrysler 300S, the Chrysler 300C Luxury Series, and the high-performance Chrysler 300 SRT. Chrysler added a pair of special John Varvatos Collection versions of the 300C during the 2013 model year: a Luxury Edition and a Limited Edition. Both incorporate distinctive styling elements based upon the famed fashion/lifestyle designer's work. Each is available fort 2014.
The Chrysler 300S features 20-inch wheels and a firmer suspension. The John Varvatos Limited Edition features a monochromatic black exterior, with a titanium-finish grille surround, enlarged air vents, and special titanium/chrome-finish Chrysler winged badges. The Luxury Edition can be finished in black or Dark Mocha.
Chrysler's standard V6 engine develops 292 horsepower and 260 pound-feet of torque, while the 300S version gets a boost to 300 hp and 264 pound-feet. All Chrysler 300 V6 models use an 8-speed automatic transmission from ZF that performs so effectively, it makes the Hemi V8-powered car nearly irrelevant. With this transmission and rear-wheel drive, the V6 sedan gets an EPA-estimated 19/31 mpg City/Highway.
The available 5.7-liter Hemi V8 produces 363 horsepower and 394 pound-feet of torque. A 5-speed automatic transmission mates with each V8 model. Fuel economy is EPA-estimated at 16/25 mpg City/Highway (15/23 mpg with all-wheel drive).
With a brand history dating back to 1955, the Chrysler 300 has all the heritage traits of an American luxury sedan such as room, comfort, endless features and amenities, power, and a degree of presence. Yet, it also has good road manners, and stops and changes directions as well as it forges ahead. Chrysler's largest sedan also has a distinctive look that's ever harder to find in this era of economy-driven aerodynamics, pedestrian impact standards, and corporate styling. Options for the 2014 Chrysler 300 include a panoramic dual-pane sunroof.
For the all-out performance fan, the 2014 Chrysler 300 SRT model packs a 470-horsepower, 6.4-liter V8 (only a Corvette ZO6's is larger), along with Brembo brakes and cast or forged alloy 20-inch wheels. Available Bilstein adaptive dampers are similar to those Maserati uses. Needless to say, SRT is quick; but the SRT also delivers good bang for the buck. Previously called SRT8, the 300 SRT comes in two trim levels: Core and Premium.
Consideration for the Chrysler 300 covers a wide spectrum, including the Cadillac CTS, Lincoln MKS, Lexus GS, Hyundai Genesis, Volvo S60, BMW 3 Series (by price) or 5 Series (by size), and Mercedes C and E classes for the same criteria. A 300C AWD can compete with Ford Taurus SHO.
Starting at $44,495 for the Core model, the 2014 Chrysler 300 SRT could be considered a cost-effective sports sedan alternative to Cadillac CTS-V, BMW M and Mercedes-Benz E-Class AMG. A Hyundai Genesis R-Spec is similarly priced, but we don't consider it a performance match.
Chrysler's optional navigation system is the best we've ever seen, with a large, 8.4-inch screen that's easily understood at a glance and easy to operate. We highly recommend opting for it.