2014 Chrysler Town & Country Driving Impressions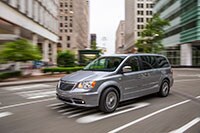 Even though plenty of improvements have been made to Chrysler's minivans over the years, the basic driving experience remains remarkably similar to that of earlier models, dating back as far as 1996. That was the year when Chrysler dropped the original square-box profile, in favor of a larger, more rounded look.
For shoppers who lean toward minivans, or are at least considering the possibility, that sense of familiarity is a benefit, not a detriment. Chrysler served as the benchmark for minivans for a long time. Even though others caught up, on various levels, Town & Country is still a potent force in this increasingly-uncrowded field.
The Chrysler Town & Country is tall, heavy and long, which makes it a bear to handle in tight quarters and on winding roads. On the plus side, it's much better controlled than pre-2011 models were, with less body lean. Retuning the suspension that year, and lowering the ride height by an inch, made an appreciable difference.
The Town & Country still leans a bit in turns but not annoyingly so, and it gathers itself promptly enough. The steering is reasonably quick and direct, with satisfying road feel. Steering is hardly sports-car quick, and it requires a bit more effort than might be expected in a minivan; but it does inspire confidence. All told, handling falls in line with the Honda Odyssey, which is widely considered the sportiest minivan.
Town & Country occupants can expect a generally smooth and comfortable ride, with easy recovery from imperfections in the pavement. Chrysler's minivan irons out most bumps well, and only the sharpest of ruts will crash through to give the passengers a start. The long wheelbase helps prevent larger humps from causing up-and-down motions, and the suspension tweaks eliminate any floaty sensation. Still, it's not as smooth as the Toyota Sienna, which delivers an almost luxury car feel.
Overall, performance from the 3.6-liter V6 is class-competitive. It's smooth and quiet, offering decent punch from a stop, and with enough energy in reserve for passing and merging. However, it doesn't feel as powerful as the 283-horsepower figure would suggest. That's odd because this same engine feels stronger in the rear- and four-wheel-drive Jeep Grand Cherokee. The 6-speed transmission doesn't seem to communicate well with the engine, or react very well to the driver's right foot. Fuel economy is an EPA-estimated 17/25 mpg City/Highway.
On the road, the Town & Country cruises quietly, thanks to the smooth engine and ample sound-deadening measures. The Town & Country also features a couple of available safety features that are worthy of note.
The Blind Spot Monitoring system uses radar sensors to detect vehicles in the van's blind spots and warns the driver via lights in the side mirrors or a driver-selectable chime. It works well, but like similar systems offered by other manufacturers it can sometimes give false readings. It's still important to look before you change lanes.
The Rear Cross Path system is activated when the van is in reverse. It uses radar sensors to detect vehicles crossing behind the Town & Country, and warns the driver with lights in the side mirrors and that same chime. The system won't detect small objects, like pedestrians, so it's still important to proceed slowly. It does, however, detect vehicles up to 20 meters away, and is programmed to recognize the speed of oncoming vehicles and alert the driver only if they are traveling at a speed that could lead to an accident (in other words, stationary and very slow-moving vehicles probably won't register). We like this system. It works well, and we found it especially useful in parking lots.