2014 Dodge Durango Introduction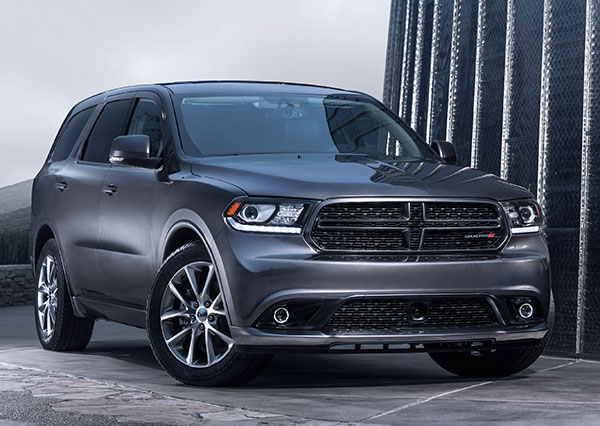 The Dodge Durango's 2011 redesign qualified as a wholesale advance on its predecessor and 2014 sees noteworthy advances in Durango evolution. The 2014 Durango is more than merely competitive, offering a combination of traditional SUV ability with crossover-like comfort, quiet and features.
For 2014, Dodge Durango gets new styling at both ends, an 8-speed automatic transmission, new infotainment systems and revised nomenclature. Every Durango has three-row seating, with second-row captain's chairs available in all but the base model.
Durango works best for those with varied needs: plenty of seats, good cargo capacity and hauling flexibility, and top-tier towing capacity. The standard setup is rear-wheel drive, yielding even weight distribution, a compliant bump-soaking ride, quiet cruising and good response to driver commands.
Engine choices include a refined V6 with a lighter appetite for gas, or a strong Hemi V8. Durango V6 can be ordered with all-wheel drive; the V8 offers on-demand four-wheel drive with low-range gearing.
The standard 3.6-liter V6 brings 290 horsepower paired to a new 8-speed automatic; from takeoff it gets more torque to the wheels than last year's V8/6-sp auto combo. On the plus side, the V6 gets an EPA-estimated 25 mpg Highway and has a big fuel tank, so those 450-mile scenic routes won't leave you worrying about the next gas station. Those not concerned with mileage will opt for the Hemi, not because of its 70 added horsepower but for the extra 130 pound-feet of torque, V8 soundtrack and higher tow rating.
Durango can tow a minimum 3500 pounds fully loaded and up to 7400 with the V8 (more than most crossover competition, less than traditional V8 SUVs). With low range available in four-wheel drive V8s, it can handle ascents or descents, think slimy boat ramps or rocky canyons–you shouldn't even consider attempting in most crossovers.
All Durango models seat six or seven adults comfortably in a cabin that puts space to good use. Materials and fit-and-finish are soothing yet remain wholly appropriate for the SUV mission. Durango can be configured to carry big boxes, a sofa, or four people plus a 10-foot step ladder or stack of lumber inside.
The Durango SXT is the base model, but it's far from basic, with three-zone temperature control, a full complement of power features and a decent stereo with standard satellite radio. The loaded Durango Citadel has everything you need and a lot more, including remote starter and ventilated seats. The sporty Durango R/T is bold, quick and genuinely fun to drive, despite its substantial size. Options are reasonably priced, and run the gamut from blind-spot warning to 500-watt Alpine audio to two grades of navigation.
The Durango has been rated a Top Safety Pick by the Insurance Institute for Highway Safety. All models come with a full complement of airbags, rollover sensing and electronic stability control with trailer sway control. Optional safety features include rear cross-path detection, a rearview camera, rear park sensors and active cruise control with forward-collision warning.
Durango competes in a crowded category against the GMC Acadia, Chevrolet Traverse, Buick Enclave, Ford Explorer, Toyota Highlander and 4Runner, Hyundai Santa Fe, Kia Sorento, Mazda CX-9, Nissan Pathfinder and Honda Pilot. Top-drawer Durango models could also compete with the Acura MDX and Volvo XC90, and it makes a compelling alternative to a Chevrolet Tahoe or GMC Yukon, Ford Expedition, or Toyota Sequoia.
The Durango is a great vehicle for drivers who can legitimately take advantage of its strengths. But needs are important in the decision. Those who do no towing, never go off-highway or don't need the V8 might consider the Dodge Grand Caravan, which has more people room and as much cargo space behind the second row as the Durango does behind the front seats. However, the Grand Caravan is not as nimble, not as fun to drive and not as work-oriented.