2014 Ford Fiesta Driving Impressions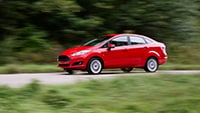 We found the Ford Fiesta with its 120-hp 1.6-liter engine perfectly adequate for commuting and driving around town. And once it gets up to speed, the Fiesta runs with freeway traffic, and it cruises reasonably comfortably at 70 mph. Hit a slight grade, though, or try to pass on a two-lane road, and the limitations of its meager 112 pound-feet of torque become obvious.
A 6-speed dual clutch transmission Ford calls the PowerShift automatic is optional on most Fiesta models. Unlike a traditional automatic transmission, this gearbox is actually an automated manual that uses two dry clutches. The result is faster shift times and improved fuel economy. It's the best of both worlds for people who are enthusiastic about driving, but for whom stop-and-go traffic kills the notion of a traditional stick shift. With this option, there's no clutch pedal to continuously pump, yet drivers can choose to change gears manually for a sportier, authentic shift feel. It does have its idiosyncrasies, however, like slight rollback on hills and a reluctance to creep forward when attempting to finesse into a tight parking space.
Our 2014 Ford Fiesta SE hatchback came equipped with a 5-speed manual, which was relatively easy to operate, with an easy clutch pedal and light throws of the shifter.
The sporty Fiesta ST comes exclusively with a 6-speed manual gearbox.
Steering response was what was expected from the wheel and tire package, not especially sharp but still sufficiently precise. Handling is easily controlled, and we felt little body roll through tight corners. We did notice, however, moderate noise coming from the tires while cruising at moderate to higher speeds. The Fiesta's internal cooling fan seemed to run continuously, which was especially noticeable at stoplights.
We noticed no brake fade after driving 30 miles on winding, hilly canyon roads at a moderately aggressive pace, and despite the front disc/rear drum setup common at this price point, we felt confident in the Fiesta's stopping power.