2014 Ford Fiesta Introduction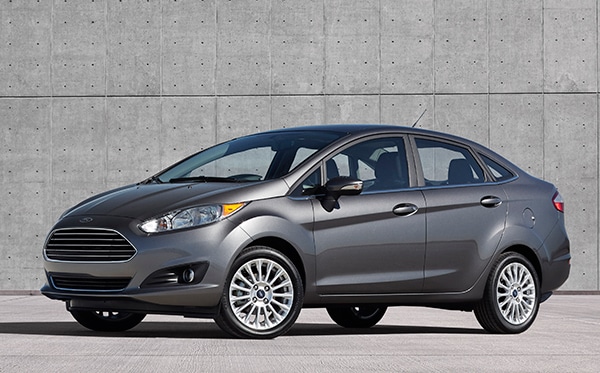 For 2014, Ford Fiesta gets a freshened look, along with two new thrifty engines, upgraded in-car technology and a revised interior.
Boasting the title of best-selling subcompact across the globe, the Ford Fiesta is a fierce competitor in the small car market. Available in both hatchback and sedan versions, the two body styles make distinctly different statements.
A new wide, horizontal front grille is the most noticeable change on the 2014 Ford Fiesta, bearing a strong resemblance to the latest-generation Fusion sedan. Headlamps and taillamps are new, too, and the refreshed styling helps to make the Fiesta 5 percent more aerodynamic than before, which helps with fuel economy. A Super Fuel Economy Package helps to earn an EPA-estimated 30/41 mpg City/Highway.
Most 2014 Fiesta models are powered by a 1.6-liter four-cylinder, good for 120 horsepower and 112 pound-feet of torque. Fuel economy is an EPA-estimated 27/38 mpg City/Highway with the standard 5-speed manual transmission, or 29/39 mpg with the 6-speed automatic. This engine carries over from the 2013 model.
However, two new engines make their debut on the 2014 Ford Fiesta: On the efficient end of the spectrum, Ford's 1.0-liter three-cylinder engine will be available late in the model year with 123 horsepower and fuel economy projected to be a class-leading 30/40 mpg City/Highway. At the opposite end of the scale, the high-performance Fiesta ST uses a high-output, direct-injected version of Ford's 1.6-liter, four-cylinder EcoBoost engine good for 197 horsepower and 202 pound-feet of torque.
New MyKey technology allows owners (parents) to set maximum limits on vehicle speed and stereo volume, and prevents deactivation of safety systems.
Optional on most models is a 6-speed dual clutch transmission, which Ford calls the PowerShift automatic. Unlike a traditional automatic transmission, this gearbox is actually an automated manual that uses two dry clutches. The result is faster shift times and improved fuel economy. It's the best of both worlds for people who are enthusiastic about driving, but for whom stop-and-go traffic kills the notion of a traditional stick shift. With this option, there's no clutch pedal to continuously pump, yet drivers can choose to change gears manually for a sportier, authentic shift feel.
Inside, the 2014 Fiesta gets updated with a new instrument panel Ford designers say was inspired by the look of a mobile phone. Seats are comfortable and have enough bolstering to offer support, without affecting passengers' ability to get in and out. Quality of interior materials is par with other cars in its class. All models include the voice-activated Sync system, which allows users to control certain vehicle functions by talking, and also offers access to various apps via smartphone a Bluetooth-paired smartphone. Top-of-the-line Titanium models get standard features one would normally expect to find on bigger, fancier cars, including leather upholstery and the MyFordTouch interface with 6.5-inch touchscreen with HD Radio and Sirius satellite radio capability. Roomy enough for a six-foot driver, Fiesta provides slightly less headroom but slightly more legroom than the Nissan Versa Note, making it a good choice for the long-legged.
We found the Fiesta feels right at home driving around town and while running weekend errands. The base engine's 120 horsepower isn't mind-blowing, but it's enough to tackle the daily commute in stride. Ride quality is smooth. Wind and road noise is decently muted, but did hear noise from the tires when traveling at moderate and higher speeds. The steering feel is certain, and the Fiesta goes where you point it.
Despite the introduction of a few new price-conscious subcompacts in the past few years, the Fiesta remains one of the best choices when it comes to looks, value and driving dynamics. However, the Fiesta isn't as roomy as some, even in the hatch body style. Those considering the sedan might also want to look at the Chevrolet Sonic, Hyundai Accent or Nissan Versa. Fans of the hatchback should also consider the Honda Fit or the all-new Nissan Versa Note hatch, especially if cargo space is a concern.