2014 Ford Focus Introduction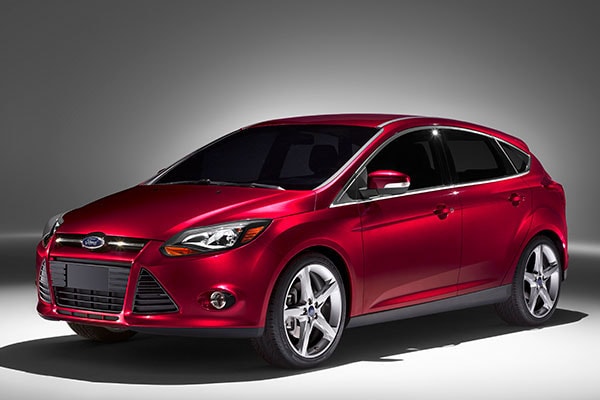 Available in four-door sedan and five-door hatchback models, Ford Focus offers sharp looks, technology and refinement with excellent fuel economy. A choice of drivetrains is available.
Focus comes standard with a 2.0-liter engine with direct injection and twin variable valve timing. A 5-speed manual transmission is standard and a 6-speed automatic with SelectShift is optional. The standard 2.0-liter engine makes 160 horsepower and 146 pound-feet of torque. The 2014 Ford Focus gets an EPA-estimated 26/36 mpg City/Highway with 5-speed manual, 27/37 mpg with 6-speed automatic, both on Regular gasoline.
Focus ST features a more powerful 2.0-liter EcoBoost engine that cranks out an impressive 247 horsepower and 250 pound-feet of torque. Focus ST comes with a 6-speed manual gearbox and sport-tuned suspension. Focus ST comes as a hatchback only with a special body kit. The sporty Focus ST is rated 23/32 mpg City/Highway.
The Focus Electric is powered by a 107-kilowatt electric motor that has an estimated range of 76 miles per full charge and an EPA energy efficiency equivalent rating of 110 MPGe City and 99 MPGe Highway or 105 MPGe Combined. It's an electric car, so gas stations are a thing of the past. You charge it up at home. With a 240-volt home charger, Ford says the Electric can be recharged in four hours, half the time it takes the Nissan Leaf to get fully juiced. The Focus Electric competes most closely with the Leaf, although the Mitsubishi i-MiEV is a smaller, less expensive all-electric alternative. Government subsidies, perks and kickbacks make the Focus Electric more attractive to buyers.
The Ford Focus models have nice interiors for the class. The soft materials are clearly high quality, while the hard trim looks slathered on. There's excellent legroom in front, but rear legroom is only moderate. The gauges are easy to read and include a big tachometer and speedometer with cool blue needles.
The MyFord Touch connectivity interface powered by Microsoft's SYNC comes standard. The system uses twin high-resolution screens, including an 8-inch touch screen in the center console, to communicate with your car. The driver uses three senses: see, hear, touch. Ford says the system is designed to be simple and completely intuitive for the driver, and maybe it was designed that way, but it doesn't always work that way. We found this latest version of MyFord Touch difficult to use.
On the road, the Focus is exceptionally quiet. A lot of productive effort went into making the cabin silent, with luxury-levels of sound insulation practically everywhere, including the doors, windshield, carpet and headliner. Ride quality was smooth and soft. We found the standard engine extremely smooth with plenty of power. However, we thought the 6-speed automatic was imprecise in its shifting, while the 5-speed manual felt ropey.
Ford Focus competes with the Honda Civic, Toyota Corolla, Chevrolet Cruze, Subaru Impreza, Hyundai Elantra, Mazda3, Mitsubishi Lancer, Kia Forte and Volkswagen Jetta.