2014 Ford Super Duty Driving Impressions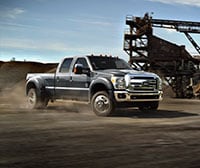 Ford will tell gearheads about new stability control, trailer sway control, revised steering gear here and differential changes there but those are mall potatoes next to 800 lb-ft of torque. Torque is the twist that gets loads moving and is the primary propellant of any motor vehicle up to the 40-45 mph range. In trucks, especially those pulling weight and climbing hills, it is even more important.
The 6.7-liter Power Stroke's 800 lb-ft of torque is more than two Toyota 4.6 or two GM 5.3 truck engines put together and not far off the combined output of two Ford 6.2-liter gas engines. Nearly double the torque and 30- to 75-percent better mileage make the cost of most diesel engine options, including this one, easy to justify, assuming you are going to work the truck.
Any negatives associated with diesel engines don't apply any more. The 6.7-liter Power Stroke makes no smoke, no nasty smells and less noise in the cab than the gasoline engine. Yes, it does have its own diesel aural characteristics just as the gas engine does but no one will complain about it. Smoggy city dwellers could be reminded the air coming out the exhaust is frequently cleaner than the air going in.
The new diesel is so quiet you can barely hear it at cruising speeds. The gas engine generates a more authoritative hum. Road noise is reasonably controlled since the nearest wheel is not right under your feet. Unless the road surface is bad, conversation volume will be determined more by what you're towing than anything coming from the engine bay or tires.
Power levels such as these scoot a four-ton pickup along the road quite well, and the Power Stroke will still be pulling hard when common sense prevails or you hit a tire-imposed speed limiter. Five-ton trailers are child's play.
Of course if you haven't more than a ton or two of building materials and tools to move around locally, the 6.2-liter gas engine is down on torque but has the same horsepower and will get the job done. It won't get the fuel mileage but will be less expensive to service (it takes about half the oil of the diesel). The lighter weight of the 6.2-liter V8 (especially off the front axle) means more payload capacity or a bigger plow. And gasoline engines are quicker to start and warm-up for very cold plowing operations.
The 6-speed automatic, the only transmission offered, is an ideal mate to either engine and offers excellent control. It can be shifted manually by pulling the lever to M and pushing an up/down rocker switch with your right thumb, just as GM's automatic. Like GM, Ford offers a dedicated 1 shift position, although Ford offers a dedicated 2 as well. We can understand multiple shifting options at different locations (such as steering wheel paddles and a console lever) but prefer the simplicity of the Dodge shifter which doesn't require moving the lever to M. However, if you just put it in Drive and go this is relatively unimportant.
An exhaust brake function has been built into the diesel/automatic combination and it is fully automatic. It also comes on gently and silently, though to maintain descent speed on a grade when not towing you will still have to downshift manually; in cruise control the truck does all it can to maintain speed up hill or down automatically. Although the diesel makes peak power at 2800 rpm and has redline marked at 4000 rpm, anything beyond 3800 rpm is overspeed and brakes should be used.
For buyers who operate snow plows, towing services or anything else with powered equipment on the truck, Ford offers a PTO option, and unlike most of them this PTO works with the transmission in any gear.
The latest steering system provides fairly light effort and more directness that isn't that apparent unless you've just climbed out of an old one. The steering feels more consistent and it takes more maneuvering to beat the pump and momentarily run short of steering assist. In short, it works great.
No heavy-duty pickup rides like a car, however, and the Super Duty is no different.
While 20-inch wheels may look better, they tend to degrade ride comfort (and occasionally load) so if your driving involves marginal roads, or no roads at all, better to stick with the standard size wheels; they're usually lighter and easier on fuel too. That said, we towed a loaded 20-foot enclosed car trailer from Los Angeles to New York on the 20-inch wheels and never found them lacking.
There are a few instances in which a competitor might hold an advantage. GM full-size 4WD steering precision is better, a tradeoff many Super Duty owners happily accept to get Ford's solid front axle design often considered superior in durability and articulation. The GM's independent front suspension has a slightly softer ride, but that makes the back (especially empty) kick more for no real net gain. The Ram and GM HD pickups use sophisticated body mounts on all but regular cab models and clearly have less noise and vibration than the Super Duty.
A Super Duty has no obvious drawbacks in maneuverability for such a behemoth, and the cut-down front windows and large mirrors give a good view. The new hood's smoother edges and corners make it more difficult to judge close-in distances but with a hood that big you'll be climbing out to scout what the trail has in store frequently anyway.
The word handling isn't ascribed to HD pickups as much as control is, and the Super Duty feels comfortable even with heavy loads. Brakes don't stand out as good or bad, and four-ton trucks never stop like cars, but the tow command system and cruise-integrated exhaust brake keep things in check.
Differences between the F-250 and F-350 SRW are essentially limited to the 350 capable of carrying or towing more weight. The F-350 DRW goes a much larger step further in payload and trailer towing (or camper carrying) stability. The max tow rating on some F-350 DRW is around 23,000 pounds, but remember those ratings are given with a nearly empty, low-optioned truck. (Any trailer more than 8500 pounds requires weight-distribution on any F-250/F-350.) A model specified for a maximum payload of 3190 pounds, then equipped with the diesel engine and five (U.S.-standard 150-pound) passengers added, has a camper load rating of 1732 pounds. Less any options and accessories you add.
Often the choice comes down to an F-250 short-wheelbase SRW model vs. an F-350 (or F-450) long-wheelbase DRW model. It's not just the dual rear wheels that make parking an F-350 more difficult; the long-wheelbase makes negotiating tight parking lots more challenging. The long-wheelbase, dual rear wheel trucks are better while pulling a big, heavy trailer on the open highway. But we've found the F-250 short-wheelbase truck to be a superb tow vehicle and quite stable. If you're running a lot of tongue weight, you will want a weight-distribution hitch.
The F-450 model is a crew-cab, long-box-only truck that bucked trends and downsized slightly for 2011. The 10-bolt wheels and 19.5-inch tires of the old model required a speed-limiter of just more than the top posted speed limits in Texas, and a lot of customers complained. So the F-450 is now closer in concept to an F-350 DRW with roughly the same load capacity (5260 pounds) but a tow rating of 24,500 pounds. Just make sure your driver's license is approved for that load.
Whatever you are towing, the available towing mirrors are excellent and in some cases the wide-angle element is heated and the housing extends and/or folds electrically, handy when pulling up to the fast-food drive-through window.