2014 Ford Super Duty Walk Around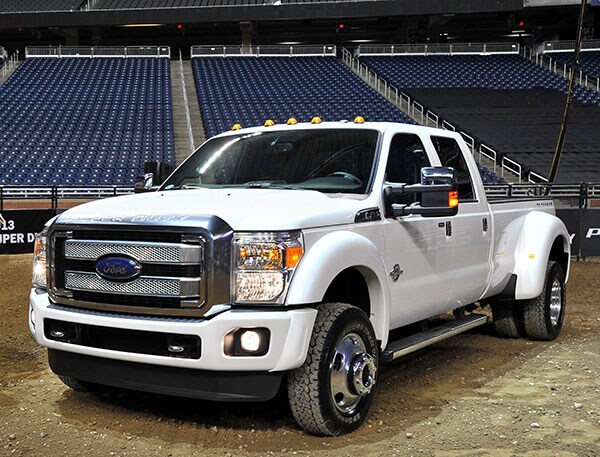 Already the biggest pickup in town, the Ford Super Duty appears imposing with big horizontal bars in the grille, deep airdam and bumper with big cooling air openings, and stacked lamps with the headlights on the bottom. Dimensions are easily given in yards rather than inches. The sheer vastness of the sheetmetal may overwhelm your car wash guy. The Power Stroke badges have been given a hybrid-like green leaf with B20 in reference to the ability to burn biodiesel fuel, but only compared to other huge trucks might a Super Duty be considered green.
Regardless of bulging flares or flared nostrils no Super Duty would be mistaken for anything less than a full-size pickup even with nothing scalable within sight. The clamshell hood essentially shrink-wraps the diesel engine underneath, and the rounded edges and deeper air dam have improved the coefficient of aero drag from about 0.45 to 0.425 Cd. By comparison, an aerodynamic sedan has a drag coefficient closer between 0.24 and 0.28 and much less frontal area.
Super Duty box sides have a large fuel door, which allows room for the additional diesel exhaust fluid fill for diesel versions. Reverse lights are at the top of the tail-lamp assembly, so far off the ground they are really nothing more than signaling devices that the truck is in reverse. The available rearview camera works well at night, however. Wheels range from 17 to 20 inches in diameter, all of aluminum except the base and inside-rear dually 17-inch steel wheels.
Towing mirrors work very well. They telescope and fold (manual or powered), and include two large convex mirror elements for safe rear vision with the widest street-legal trailers. The towing mirrors include signal repeaters that won't distract the driver. A camera mounted in the tailgate center latch housing linked to a display on the navigation screen or inside the rearview mirror gives the driver a good review of what's behind.
An optional tailgate step is available that pops out of the tailgate for an easier step up to the bed; the step is rated at 1000 pounds. A grab handle flips up like a walking stick to further aid stepping up to the bed; the grab handle is rated at 300 pounds. We've found this setup handy at times and it doesn't usually get in the way. Once up in the bed, you need to remember the step is deployed so you don't forget and get tangled up in it, and you'll want to take care stepping back down. The tailgate also includes an assist so the very heavy tailgate feels less heavy. Unlike some others, however, the assist doesn't do much to slow the tailgate when lowering it so be careful not to let it slam down.
Short boxes have four tie-down cleats a few inches off the floor, long boxes get six. Cargo can be secured with a hefty cable lock, and the box can be protected with a sprayed-in or drop-in liner.
An integrated fifth-wheel/gooseneck hitch prep option is available for both long-box and short-box trucks. This assembly is securely mounted to the frame at the factory (and warranted by Ford) and leaves a flat floor with guidelines marked to cut out four fifth-wheel mounting holes or the center gooseneck; major hitch suppliers were consulted for compatibility and the final hitch hardware choice is left to the consumer. The Super Duty also has an inside box-wall mounted 7-pin trailer plug that's handy for gooseneck and fifth-wheel setups.
Interior
The Ford Super Duty cab is massive, measuring nearly six feet from side to side. Materials appear well assembled and mission-appropriate. The King Ranch version is the cowboy Lincoln, the Platinum top of the lux line, and the base XL model could be cleaned out with a bucket of warm water. On upper-end models, the gear-cog-like chrome surrounds for vents and gauges can create some unwelcome reflections, and the number of textures and colors (we counted up to eight) may be too much for design minimalists.
Front seats are available as a bench for three-passenger seating with a flip-down center console or as bucket seats for two with a very nice center console package. Be careful making this choice to avoid being surprised when the truck arrives. Each has its advantages and disadvantages. The bucket seats are more luxurious. However, having the solid wall between the front and rear seats is handy for corralling a dog or lots of cargo in the cab. The front bench seat is split 40-20-40. While the driver's and front passenger's seats adjust fore and aft, the center seat is fixed in place and, of course, comes with a center seatbelt. The center seatback flips down to present a pair of cupholders and a shallow storage console. The center seat is quite cramped, with little room for knees and feet, but it's a good choice if you periodically need that center seat. The other choice for front seating is the 40-console-40 bucket seats, which most people prefer for the storage options. Lariat and King Ranch come with a big center console when ordered with the buckets, while the XL is available with a mini console.
The tilt-and-telescoping steering wheel, memory system and adjustable pedals allow great flexibility for his-and-hers operation. The dash is segmented in three smaller parts. The instrument pod provides engine and road speed through larger dials with four smaller gauges lined up between; diesel models include a boost gauge and gas engines substitute oil pressure. Instrument needles are now blue on many models but illuminate as white at night.
The center stack houses a pair of large vents, radio and navigation located top center where easily viewed, climate control, and most switchgear, including optional auxiliary equipment fitter switches, tow command, SYNC inputs and one of up to five 12-volt power points. The far side houses the passenger airbag and a sizable glovebox; where so equipped, the reconfigurable center console is similarly large and the huge door pockets (two on each front door) could hold the contents of a small tool chest.
The climb into the Super Duty cab is mitigated by a deep door-opening cut and well-placed assist handles; multiple choices in side steps are available.
Adults can fit in the rear of the SuperCab but if you intend to make a habit of carrying adults in the back seats then go for the Crew Cab. The Crew Cab is also notably quieter because of the center pillar the SuperCab doesn't have.
The Crew Cab is very comfortable for four adults, with roomy, comfortable back seats. The Crew Cab center rear seat has a headrest, and adult-size outer headrests. It also offers lockable storage under the seat with a power point, and grocery bag hooks under the short cushion passenger side. Remove the rear seats and you have a massive interior area for dogs or cargo.
An electronic switch handles turn signals and high beams now; with a momentary lift the signal blinks three times automatically; unlike some competitors it does not add blinks with tow/haul mode engaged. The signal lever may feel some distance away from the wheel but high-beams are switched both on and off by pulling toward you. Primary controls are all easy to find and use, with few tiny buttons to complicate driving with gloves. The reverse parking sensor can be defeated for hooking up a trailer. The daytime running lights can be turned off for good neighborly night-time entries to campgrounds or drive-ins.
The ventilation system is capable of cooling or heating the cavernous volume and keeping forward windows and mirrors clear, and seat heaters are very effective; a supplemental cab heater is available for diesel models. On many models, all outside mirror elements are heatable as well.
Upper trim levels include a productivity screen in the center of the instrument panel. In addition to odometer, outside temperature, compass and gear indications this offers six other menus. The gauge mode gives more detailed readings for oil and transmission fluid temperatures, and diesel boost pressure. A/B trip computers offer time/miles/gallons used/relative instant fuel economy (a bar graph); curiously the fuel economy history, range remaining and instant fuel economy in mpg is under another menu titled Fuel Economy.
The Truck Apps display includes an off-road screen with lateral and vertical angle indicators (no redline marked where the truck might/will/has fallen over) and turning radius; it also provides information about the locking differential, plus 4WD, hill descent and traction control systems. The trailer submenu can store brake settings and name for two trailers and show checklists where you have to, for example, push OK when it asks if the tongue jack is raised, lights functioning, etc., for different types of trailers. These checklists can be helpful in reminding you to do things you know to do but may have forgotten or overlooked when tired or distracted. Of course, they can be turned off and not used.
Owners can customize the screen to track maintenance intervals, program how long the lights stay on at key-off, or change the compass zone. The Information section includes MyKey preferences, log data (engine hours, idle hours, open doors, etc.), and messages like tire pressure warnings.
The navigation system is intuitive and will be familiar to Ford family drivers. The screen isn't the easiest to read, however. The type faces are too light and wispy and offer too little contrast to be easily read. This is made worse on bright days when sunglasses are worn. Also, the screen is relatively small. The GM and Ram screens are better. The navigation system is otherwise easy to use. Inputting destination addresses is intuitive. SYNC is also included.
The Tool Link aspect of the Work Solutions equipment will tell you, on the center screen, which (if any) tool or anything else you've tagged is not in the truck when you are ready to leave.
Ford's tow command integrated trailer brake system is easy to set up and provides better, smoother trailer braking control than the majority of aftermarket controllers. It is compatible with both conventional and electric-over-hydraulic braking systems and the display for gain adjustment has been incorporated in the instrument pod.