2014 GMC Acadia Driving Impressions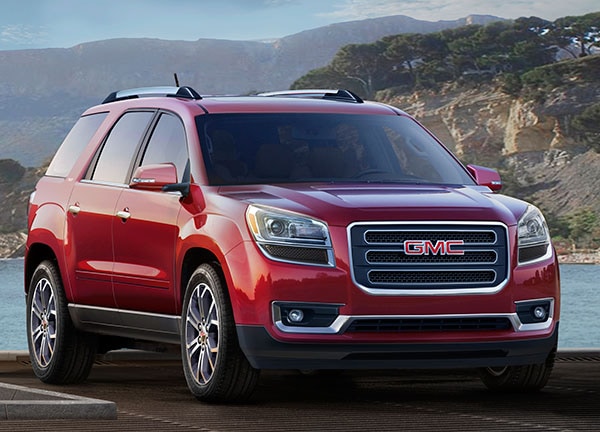 The GMC Acadia is big and heavy, but it feels smaller on the road. Steering doesn't require much effort, not even in a parking lot, but it still offers good feel, giving the driver a feeling of confidence about where the vehicle is heading and how it will respond. The Acadia turns into corners responsively and feels stable on the freeway.
Acadia only feels its weight when driven hard. It's nearly 5,000 pounds with all-wheel drive, about 500 pounds lighter than a Yukon or Tahoe, but hundreds heavier than a Honda Pilot or Ford Explorer.
The Acadia uses independent suspension in the front and rear, like most modern cars, and this provides a well-rounded blend of ride and handling. Bumps, tar strips and potholes are felt but only distantly, without the jarring that is part of life in a truck-based SUV. If you're used to driving a traditional SUV, the Acadia will be much more smooth and refined. The Acadia feels strong and rigid, and it doesn't quiver on bumps. Unwanted body motions are nicely controlled, so there isn't a sloppy feeling.
The brake feel is firm, and that makes it easy to modulate the brakes in heavy traffic, shaving off a lot of speed or just a little bit. But remember, this crossover stops like a van or truck, not like a car, so use your high seating position wisely.
StabiliTrak, GM's electronic stability control system, comes standard and can help the driver maintain control on slippery surfaces. The system uses sensors to tell if the front or rear of the vehicle is sliding, and can correct for the skid. If the system detects a possible rollover, it reacts to help prevent that as well.
The all-wheel-drive system is permanently engaged and does not require the driver to do anything but drive. A computer sends the power to where it can do the most good. GM calls it Intelligent AWD, which essentially means that it manages front-to-rear torque distribution to enhance stability and control.
The GM 3.6-liter V6 has proven itself to be powerful, efficient and flexible, and it's enough engine in the Acadia. Acceleration is more than adequate, with help from a 6-speed automatic transmission, which is smooth and responds better given 2013's recalibration. With variable valve timing, the V6 makes 288 horsepower at 6300 rpm and 270 pound-feet of torque at 3400 rpm. That's similar to the Explorer's V6, but both the Explorer and Acadia can't match the torque of their V8 cousins that rate 1-2 EPA mpg less.
Fuel economy is an EPA-estimated 16/23 mpg City/Highway with all-wheel drive, 17/24 mpg with front-wheel drive. Towing capacity is 5,200 pounds with two passengers and no cargo.