2014 GMC Acadia Walk Around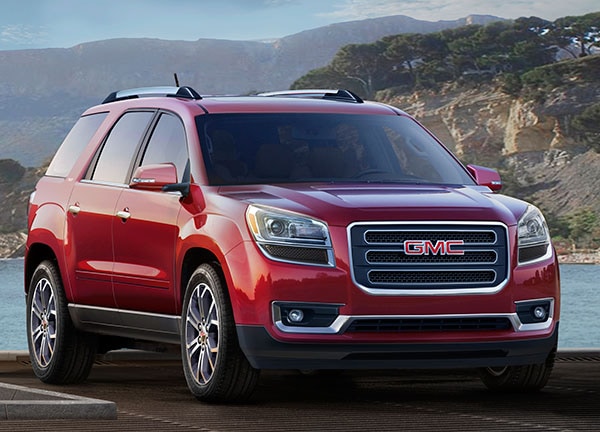 The GMC Acadia shares its size and overall features with the Buick Enclave and Chevrolet Traverse. Measuring 201 inches long overall, an Acadia is a few inches longer than a Ford Explorer and about the same size as the GMC Yukon or a van.
Acadia is a big vehicle, which uses short overhangs to look more like a Jeep Grand Cherokee than the large size that it actually is. The front end is a rounded version of GMC trucks' blocky appearance, with a three-bar grille and prominent GMC emblem. Distinctively angled headlight clusters give the Acadia a slightly startled expression. Projector beams are standard, while high-intensity discharge headlights are optional. Small round fog lights (if installed) nestle below. The front bumper is massive, but the size is lost by splitting the bumper heights between grilles and lights.
From the side, the rounded fender flares are prominent. A horizontal character line sets out to connect them, but disappears into the doors instead. The shape of the Acadia is aerodynamically efficient for an SUV, with a drag coefficient of 0.344; but remember, that figure is multiplied by frontal area (of which it has plenty) for total aerodynamic drag. Power-adjustable outside mirrors are standard on all models, some with integrated turn signals and heated elements.
From the rear, the Acadia's taillights look more like a generic crossover, but pulling the side glass to the hatch glass keeps a dark band around the rear, making the roof appear cantilevered over it. Some models sport overt tailpipes; others hide them.
The standard 18-inch wheels and tires are a good choice for the Acadia, offering the best ride quality, but it's also available with 19-inch or 20-inch wheels. The Acadia has the visual mass to support the big-diameter wheels, but the bright 20-inchers are too dazzling for our tastes.
The Denali has its own look, with more body-color trim and Bentley-esque mesh grille inserts. Denali comes only with 20-inch wheels.
Interior
Acadia has three rows of seats and can seat seven or eight, though more than six will be squeezed. To get eight, GM assumes three people are sitting in the third row, but there is scant hip room or legroom. Three children might squeak, but three adults won't fit; for that, you need a van.
The Acadia SLT cabin has a handsome and upscale look, with leather upholstery standard. The designers of the Acadia stayed away from cheap-looking plastic and bargain-basement cloth. Yet they did not lose track of basic functionality. The heating and cooling controls are easy to find and use. Instruments are legible, not lost in some fussy attempt at a complex design. Big cupholders and a deep bin between the front seats are welcome, but the pockets on the inside door panels are too narrow for any meaningful storage.
The front seats are wide and comfortable. The steering wheel tilts and telescopes, making it easy for drivers tall and short to get comfortable. As with most crossovers, the driver sits high, with a good view down the road. Pillars could be smaller, but top-line models do have side blind-zone and rear cross-traffic alert.
Visibility to the rear isn't great, so park assist and a rearview camera are standard. With color touch-screen audio and optional navigation screens, the rearview image varies among models; a smaller screen will require more frequent camera lens cleaning. Outside mirrors have wide-angle elements built-in, but not on Acadias with the blind-spot warning system.
Eight-passenger seating comes in the base model, with a 60/40 split bench in the second row that can accommodate three people (for 2-3-3 seating). The up-level Acadia models have second-row captain's chairs, which cut passenger capacity to seven (in a 2-2-3 arrangement) but are more comfortable. Either model can be ordered with the other seating arrangement. This is an important choice that deserves careful consideration: Models with second-row captain's chairs are less functional for hauling cargo. So, as a people mover, the seven-passenger is more practical; as a cargo hauler, the eight-passenger is much better.
Second-row legroom is 36.8 inches, with the sliding seat in the middle of its four-inch range. With the seat all the way back, giving nearly 39 inches of legroom, a six-foot-tall person can be comfortable in the driver's seat while another six-footer can be seated directly behind without being cramped.
Getting to the third row involves using what GM calls its Smart Slide feature. A handle moves the second row up and out of the way. As in most vehicles, the Acadia's third row is best suited for small children. When GMC says the Acadia is a seven- or eight-passenger vehicle, GM assumes three people are sitting in the third row, which has about nine inches less hip room than the second row. Putting three children back there would be possible, but three adults won't fit. Two adults will fit, though, with good head room and adequate leg space. Just don't plan to keep them back there on long trips, because the low seat bottoms lack thigh support.
Generous exterior dimensions yield generous cargo capacity, with 24.1 cubic feet of cargo space behind the third row. That's three more than the same space in a Ford Explorer, and below headrest level, what you might get in a mid-size sedan. (Hatchback and crossover cargo areas are measured differently than sedan trunks.) A small plastic-lined bin below the floor of the Acadia's cargo compartment is perfect for carrying messy stuff.
For more cargo space, nearly 69 cubic feet, the third row folds down easily. A strap is used to pull it back up, requiring some effort. Fortunately, lowering the second or third row does not require removing the head restraints. When both the second and third rows are folded, the cargo area is almost flat, and there is a cavernous 116 cubic feet of cargo volume.
Against the Ford Explorer (3.5 inches shorter) and Honda Pilot (9.4 inches shorter), the Acadia's cabin measurements are average. The only dimensions that vary more than a fraction of an inch are the Pilot's third row, with 1.1-inch less legroom, and the Explorer's reduced third-row hip-room. That's the main reason it has just two seatbelts back there. For cargo area, the larger Acadia offers the most space, but none of them will carry luggage for six behind the third row, and attention should be paid to weight when carrying lots of people.