2014 GMC Terrain Driving Impressions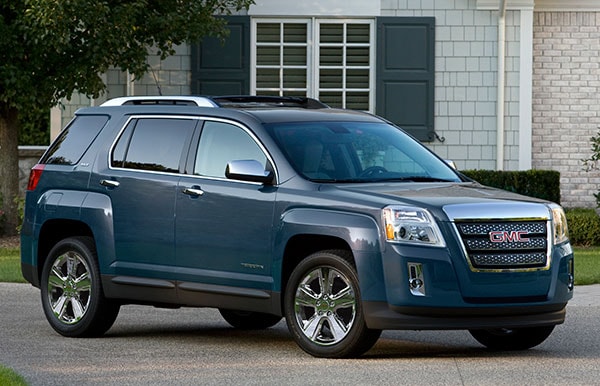 The GMC Terrain delivers a nice balance of attributes on the road, getting along in a fashion that complements its interior features and all-purpose versatility.
The dynamic balance tilts toward comfort, but the Terrain is reasonably nimble around town, and very easy to manage. It accelerates nicely regardless of the engine, and fuel economy with the four-cylinder is outstanding. The optional all-wheel-drive is suitable for graded trails, and it's valuable in wintry climes.
Many buyers will find the optional forward collision alert and lane departure warning to be worth the extra cost. For starters, the Safety Package (including rear park assist) is relatively inexpensive, and it works as well as others that cost a lot more, with less distraction. On the other hand, it's a bit distracting itself, until the driver becomes familiar with it, because the warning device is front and center on the dashboard. The driver sets the warning distance to an appropriate length. Once that's settled, if he or she happens to glance down at a phone or back at a toddler at an inappropriate instant, the warning system will beep loudly and flash if the Terrain is closing too quickly on another car or object. It gets the driver's attention fast, and that's really all there is to it. It's a good idea.
Both Terrain engines are technically advanced, with direct gasoline injection and sophisticated control technology to improve efficiency and reduce emissions. The 3.6-liter V6 is rated at 301 horsepower and 272 pound-feet of torque. Fuel economy is an EPA-estimated 17 mpg city, 24 highway with front-wheel drive, or 16/23 mpg with all-wheel drive. The Terrain V6 is rated to tow up to 3500 pounds.
Acceleration is pleasantly capable even with the 2.4-liter, 182-horsepower four-cylinder engine, making the V6 less essential. Towing capacity is reduced to 1500 pounds, but overall drivability is close to comparable, and mileage ratings increase significantly. The four-cylinder gets an EPA-estimated 22 mpg city, 32 highway with front drive, and 20/29 mpg with all-wheel drive. Both ratings are near the top of the class.
GMC's 6-speed automatic transmission helps make either engine appealing for propelling the nearly 4,000-pound Terrain in satisfying style. With a gear for every situation and intelligent programming, the transmission can sense the difference between subtle variations of throttle input. Sixth gear is a very tall overdrive, so the V6 Terrain cruises at highway speeds easily and quietly, loafing along at low rpm.
With its own quick-shifting 6-speed automatic, the four-cylinder easily powers the Terrain around town. With just a little more effort, it supplies confident on-ramp acceleration and no-downshift passing power on the highway. Its transmission has slightly lower gearing than that used with the V6, but it shifts just as smoothly and follows throttle input just as well. Especially for those who feel fuel costs will become a significant factor over the next few years, the four-cylinder powertrain is worth considering.
Any GMC Terrain is commendably quiet in just about every respect. It feels substantial around town, not the least bit tinny; but it's also reasonably agile, with a progressive turn-in and little side-to-side sway at normal speeds. The suspension delivers a smooth, isolated ride, as we discovered on some straight, fast and sometimes potholed Midwestern roads. Relatively little vibration leaks through the steering wheel or other touch points.
In other words, the suspension is on the soft side, but handling around town and on more demanding roads is not hugely affected by body roll or brake dive. Cornering is quite predictable and secure, enhanced by a relatively wide stance. All things considered, we think the Terrain offers a comfortable dynamic balance, appropriate for a multi-purpose SUV. It's not going to win an autocross, but the Terrain is solidly planted and nicely balanced.