2014 GMC Terrain Walk Around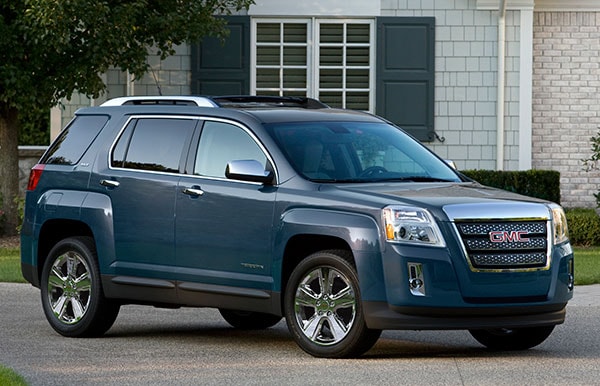 GMC Terrain is built at the same plant as the Chevrolet Equinox, and it's on the same platform with the same mechanical components. Yet the Terrain is intended to appeal to a different buyer. Technically a compact, the Terrain looks bigger. Its dimensions (and those of the Equinox) come close to some mid-size SUVs and crossovers.
Terrain measures 15 feet, 5 inches bumper-to-bumper, on a 112.5-inch wheel base. The distance between its wheel hubs is slightly longer than the wheelbase of the big Ford Explorer, and the Terrain is slightly larger than a Ford Edge in most dimensions. GMC engineers have used acoustic blankets between the engine and dashboard to minimize engine noise streaming into Terrain's cabin. Acoustic laminated glass helps manage wind noise, while the doors are triple-sealed for further quieting and efficient climate control.
GMC is a truck brand, so the Terrain has bolder styling with a larger, more distinctive grille than the one on the Equinox. Especially when viewed from the front, the Terrain's wide stance and high beltline leave a substantial, well-planted impression.
Terrain's body makes use of broad, sheer surfaces with a rectangular shape to the wheel wells. The side surfaces are clean, with chrome accents on the door handles and windows. Along the bottom of the exterior panels is a textured anti-chip layer of paint, conveying the message that the Terrain could be functional in harsher environments, both urban and rural. A sleek roof rack provides additional cargo capacity. =
Three wheel sizes and styles are available, including 17-inch aluminum wheels, and 18- and 19-inch chrome-clad wheels.
Interior Features
GMC Terrain makes a comfortable, versatile, flexible vehicle for families with two kids, or for couples with active lifestyles. Such details as a standard touch-screen interface make Terrain even easier to live with, but a third-row seat is not available. Buyers who occasionally need space for seven or eight will have to look at something larger, like GMC Acadia.
The Terrain cabin features curving lines and close-fitting panels. All surfaces are soft and nicely grained. Interior space is open and relaxed, with lots of room to stretch in back. Seats are styled using a contrasting inset with exact red stitching. The dashboard is low and leans away from the front occupants, creating a generously spacious feel.
The driver gets a high seating position, offering the same kind of vision and command of the road as traditional body-on-frame SUVs. Terrain's step-in height, however, is relatively low, making entry, exit and rear-seat loading a bit easier than with the truck-based SUVs.
Seats are comfortable and adjustable enough to prevent squirming as the hours wear on. We found the Terrain has more than enough legroom for an average-size person, and it was easy to position the seat comfortably in relation to the steering wheel. GMC says special attention was paid to accommodating shorter drivers. Interior designers worked extensively to optimize the accelerator pedal so the driving position could be close to ideal for a wider range of body types.
The dashboard and controls are lighted in orange, with bright white instrument numerals. The interior lighting creates a well-lit, but not overly bright, nighttime environment.
The floating center stack is positioned so that the most-used controls are within easy reach. It looks high-tech, but isn't overly complicated, and there's enough space for a center storage bin that's big enough for a laptop computer. The center console also has a tall, deep box, which has two advantages: It makes a great armrest, and there's plenty of room to put things inside. Four power outlets are spread through the cabin for phone chargers, laptops and other portable devices.
A seven-inch touch screen mates with the standard audio system. Essentially, GMC has been building all Terrains with the HD screen for the navigation system, even if they're not equipped with navigation. For customers, this brings the added benefit of making the optional GPS system much less expensive. The touch graphics look something like a cell phone, and they allow more functions to be integrated into the system. OnStar and SiriusXM satellite radio hardware are standard, with a six-month subscription to OnStar and a three-month subscription to SiriusXM included. If a Terrain buyer likes either, there will be an ongoing cost.
Bluetooth comes standard on all Terrains, allowing the driver to operate cellular telephones hands-free using the Terrain's speakers, a hidden microphone, and the touch screen. In the SLT2, occupants can also stream audio from hand-held devices and control them with the touch screen. With navigation, there's an SD card slot to transfer music to the system's hard drive.
All Terrains comes standard with a rearview camera. It's a great safety feature, as it can help the driver spot anything, including children, behind the vehicle when backing up. The standard touch screen helps considerably here.
The Terrain's rear seat is one of its best features. It's split 60/40, as is typical, but each seatback reclines individually, like those in front. Better still, each portion slides forward or rearward up to eight inches, favoring either cargo room or passenger room as the situation dictates.
A power-operated, programmable rear hatch is available on all but the base Terrain. It can be set to open to three different heights, depending on the size of the operator and the overhead clearance available.
Cargo space is good, but not best in class. With the rear seat moved furthest forward but up to hold passengers, there is 31.6 cubic feet of volume behind it. That's twice the space available in the typical compact sedan's trunk.
With the rear seat folded, volume expands to 63.9 cubic feet. That approaches the cargo space available in some larger crossovers like the Toyota Venza or Ford Edge, but it's less than what's available in some smaller ones, including the Ford Escape. And there are no standard cargo helpers with the Terrain. If you want a net pouch for grocery bags or a cover to hide what's in the cargo area, you'll have to spring for the optional Cargo Package, which also adds cross rails for the roof rack.
Interior
""