2014 Honda Accord Introduction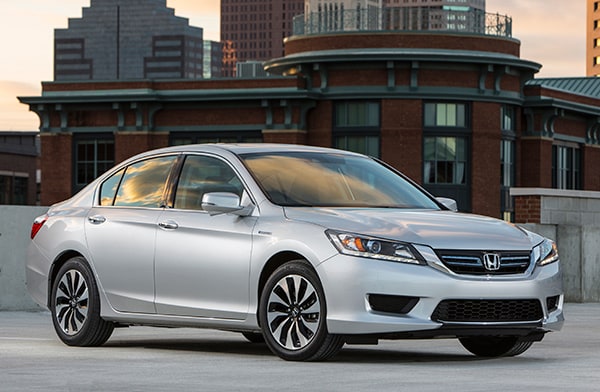 The Honda Accord is among the best of a crop of superb midsize cars. Accord comes in four-door sedan and two-door coupe versions and offers a wide variety of engine and transmission choices for different types of buyers and budgets.
For 2014, an all-new Accord Hybrid sedan joins the line boasting an EPA-estimated 50 mpg City rating from a smooth, advanced two-motor gas-electric hybrid powertrain. Completely redesigned and re-engineered for the 2013 model year, the rest of the Accord lineup carries over unchanged.
The 2014 Honda Accord comes standard with a 185-horsepower 2.4-liter four-cylinder engine. It's a smooth, enjoyable engine and, on Accord sedans, gets an EPA-estimated 27/36 mpg City/Highway with the CVT continuously variable transmission or 24/34 mpg with the 6-speed manual gearbox. The Accord Sport Sedan and Accord Coupe models get about a mile per gallon less in fuel economy.
A 3.5-liter V6 engine is available that delivers 278 horsepower and an EPA-rated 21/34 mpg City/Highway with the 6-speed automatic transmission; V6-powered Accord Coupes rate 21/32 mpg with the automatic. The Accord V6 coupe is also available with a sporty 6-speed manual, which rates 18/28 mpg, much less than the four-cylinder.
Two hybrid gas-electric Accord sedans are available: Accord Hybrid and Accord Plug-in Hybrid. Both are equipped with a 2.4-liter four-cylinder gasoline engine, so you will never be left stranded due to lack of electric charge. Both recharge themselves when driving with the gas-powered engine.
The Accord Hybrid seamlessly blends electric-only drive, gas-engine drive, and a combination of the two. The result is excellent fuel economy and smooth cruising. Accord Hybrid is EPA-rated at 50/45 mpg City/Highway; we got better than 50 mpg while driving normally. The Accord Hybrid cannot be plugged in: Simply fill it with gas like any other car and go about your life.
The Accord Plug-in Hybrid, however, can be plugged in. This feature allows the owner to recharge the car overnight and drive to and from work without using a drop of gasoline, assuming you work within five miles of your home. A fully charged Accord Plug-in Hybrid offers an electric-only range of 13 miles. If you exceed that range the gasoline engine kicks in to prevent you from being stranded. The combined gas-electric range is 570 miles. Under normal driving, the Accord Plug-in Hybrid is EPA-rated at 47/46 mpg City/Highway. Using electric power, it's rated by the federal government at 115 MPGe, whatever that means. There are tax credits and rebates available from the federal government and some state governments, California among them. Also, some states issue stickers allowing electric cars and some hybrids to travel in HOV high-occupancy vehicle lanes.
All Accord models have room for four adults, five in a pinch. Sedans have more backseat room than do the coupes. We find the cabin appealing, comfortable and convenient, and Accord offers the latest in telematics and electronic applications.
On the road, the Accord is quiet and controlled, a blend of isolation from annoyances with responsive road manners. It isn't about being the fastest in a straight line or flattest around the corners but rather being well-rounded and doing everything better than average. Overall, it feels smooth and refined.
The Accord sedan and coupe look good, their styling neither as dramatic as some nor as bland as others.
The midsize segment is a large one with many viable competitors. Among them: Toyota Camry, Ford Fusion, Chevrolet Malibu, Nissan Altima, Mazda6, Hyundai Sonata, Kia Optima, Volkswagen Passat. Drivers who want more space, performance or features might also look to a Nissan Maxima or Toyota Avalon. Hyundai Genesis Coupe is an option. The choices in the family sedan segment are bigger and broader than ever and car buyers are the winners.