2014 Honda Civic Driving Impressions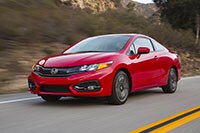 In both sedan and coupe form, we found the standard Civic 1.8-liter i-VTEC engine with its 143 hp and 129 lb.-ft. of torque to be adequate for everyday driving. Acceleration is average for the class, meaning slow; but the engine was smooth and the cabin relatively quiet.
The big news for 2014 is Honda's switch from the old 5-speed automatic transmission to a CVT, which can automatically select from an infinite number of gear ratios to optimize fuel economy, and ideally, performance. While this translates to better gas mileage, the feel of a CVT can be rather elastic-y, though Honda's new gearbox doesn't feel as anemic as some. Still, we were left wanting for more while driving winding canyon roads in Southern California with the EX-L coupe.
Cars equipped with paddle shifters have a manual mode, which allows drivers to switch between set gear ratios, mimicking a traditional automatic. During demanding driving, we found we got more out of the Civic by switching over to the paddles, though we still felt like Goldilocks a bit between second and third gears on sharp mountain curves; the lower seemed to low, and the higher seemed too tall. This, however, is not uncommon on many modern cars, which are tuned more for fuel economy than performance.
The suspension is comfortable and predictable, with cornering that's relatively flat for the class. Don't forget, we're talking about a Civic here, a car whose cars primary goal is not necessarily to be fun to drive. If you want sporty, there's the Civic Si, with its high-revving 2.4-liter twin-cam four-cylinder making 201 horsepower and 170 lb.-ft., a huge bang for the buck.
After about 250 miles of combined city, freeway and hard canyon driving in our Civic EX-L coupe, we averaged 27.7 mpg. That's much less than the published 33 mpg Combined rating for the CVT, but we also pushed hard in manual mode on some of the most demanding roads.
On a separate drive in the LX sedan, we flipped on the Econ mode and kept driving hard. We felt the difference but not so much it made us grumble. We still kept up with the other cars going 75. Our final tally was 32.1 miles per gallon, closer to published numbers but still a tad short of the EPA-estimated 30/39 mpg City/Highway and 33 mpg combined.