2014 Honda Civic Introduction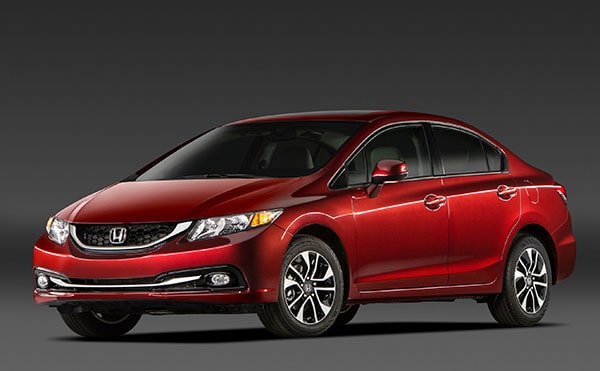 Always one of the top sellers in the compact car segment, the Honda Civic gets a few changes for 2014, including a redesigned coupe and a new transmission.
The Honda Civic began its ninth generation with the 2012 model, which was poorly received by some in the automotive media. In a somewhat unusual move for a carmaker, Honda scrambled to tweak the sedan just a year later, followed by a refreshed coupe for 2014.
From a styling standpoint, 2014 Honda Civic sedans carry over unchanged, while coupes get refreshed exterior styling, including a sleeker silhouette, revised front and rear ends and more angular, aggressive lines.
Both body styles offer a new Continuously Variable Transmission (CVT), which replaces the outgoing 5-speed automatic transmissions. Instead of using traditional fixed gears, a CVT can automatically select from an infinite number of gear ratios to optimize fuel economy, and ideally, performance. While this translates to better gas mileage, the feel of a CVT can be elastic, though Honda's new transmission doesn't feel as anemic as some.
Also new for 2014 is a revised infotainment display. The 7-inch touchscreen, on EX models and above, can pair with Apple and Android-powered phones, allowing connectivity to apps like Pandora. While the touch screen is large and easy to read, we found it less than intuitive, especially when reaching for the volume buttons or setting radio presets.
Traditional gasoline-powered Honda Civics already achieve excellent fuel economy, though for even more efficiency, the Civic is also available in hybrid and natural gas versions.
Gasoline-only versions of the 2014 Honda Civic sedan and coupe are powered by a 1.8-liter inline 4-cylinder engine. In most cases, we found the i-VTEC 143-horsepower engine with its 129 pound-feet of torque to be adequate. Acceleration performance is average but feels stronger because the engine is smooth and cabin quiet. There's an Econ mode that remaps the engine and transmission for fuel mileage over power. EPA fuel economy estimates for the Civic sedan and coupe range from 28/36 mpg City/Highway with the manual transmission to 30/39 mpg City/Highway with the CVT, depending on trim level.
A Civic sedan HF uses additional aerodynamics and special wheels, along with low-rolling-resistance tires, to achieve 31/41 mpg City/Highway.
The Honda Civic Hybrid pairs a 1.5-liter SOHC 16-valve four-cylinder engine rated at 110 hp and 127 lb.-ft. of torque with a 23-hp electric motor. Fuel economy is an EPA-estimated 44/47 mpg City/Highway.
A refreshed Civic Natural Gas model uses a 1.8-liter inline 4 good for 110 hp and 106 lb.-ft. of torque. As its name suggests, it runs on compressed natural gas (CNG). It achieves a 27/38 mpg City/Highway gasoline equivalent rating.
On the other end of the spectrum, there's the sporty Civic Si, available in sedan or coupe form, with its high-revving 2.4-liter twin-cam four-cylinder gasoline engine that makes 201 hp and 170 lb.-ft. of torque. We've had it on the track and its performance is marvelous.
The compact car segment is one of the largest in the market, and as such, competitors to the 2014 Honda Civic are many. They include the Chevrolet Cruze (or even the smaller Chevrolet Sonic), The Ford Focus, Hyundai Elantra, Kia Forte and Mazda3.