2014 Honda Odyssey Walk Around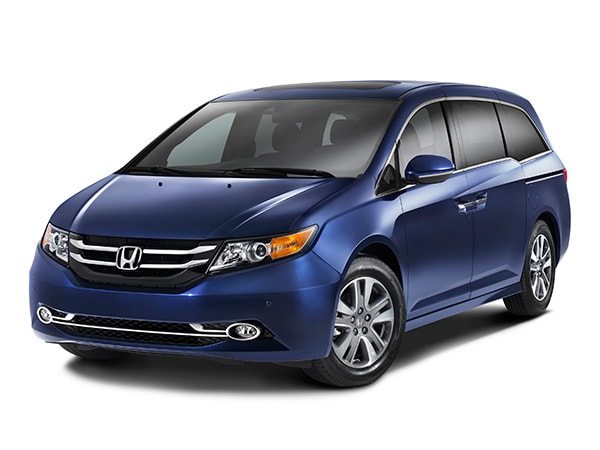 The Honda Odyssey got longer and wider in its 2011 revision, resulting in good aerodynamics.
Odyssey's refreshed styling adds new premium elements for 2014. Highlights include new black-trimmed headlights, new fog lights, a more muscular-looking hood, a black-surround grille, new body-color side mirrors, more bright trim, revised rear styling, and LED taillights with clear lenses. Weight savings come from the use of aluminum for the hood, front fenders and front suspension lower control arms. The LX model features 17-inch steel wheels with premium covers, while EX and EX-L models utilize 17-inch premium aluminum alloy wheels. Touring and Touring Elite models feature 18-inch premium sport aluminum alloy wheels.
Odyssey is within a couple inches of its competitors in every measure. The grille and headlamps appear to be a cross between the Honda Insight and Civic, and Toyota Sienna. Odyssey's looks are somewhat daring by class standards, but boxy minivan architecture, function and mission all conspire to limit styling. Touring models have aero rocker panels and mirrors, and larger wheels.
One distinctive visual feature is the drop at the bottom of the window line, behind the sliding doors. They call it the lightning-bolt look, a bit of an exaggeration, but it does break up the monotony and improves the view from the third row.
The front and rear door handles are paired in a mild recess, almost reminiscent of a Rolls-Royce with rear-hinged rear doors. The sliding doors and hatch can be opened with the touch of a button.
The roofline looks something like a tent pulled taut over a stake, similar to that of the Acura MDX, or even the late Mercedes R-Class. Taillights use clear lens signals with amber bulbs for visual pop without the expense of LED lamps. A spoiler atop the hatch is standard, and the power tailgate (EX-L and above) has pinch protection. Roof rails are a dealer accessory.
It may look the same as a previous year but the 2014 Odyssey has a revised body structure underneath for improved crash and rollover protection. At this writing no van has tested better.
Interior
The Odyssey LX seats seven, and all other models seat eight. We found it roomier and more comfortable than any SUV including a long-wheelbase Cadillac Escalade. Only full-size vans (Sprinter, Transit, ProMaster, Express, etc.) offer more interior space, until you get to buses and motor homes.
With all three rows of seats up, the cargo area is 38.4 cubic feet, just 7 less than a big SUV. With the third-row folded it grows to 93 cubic feet, and with the second row down there's a breathtaking 148.5 cubic feet of cargo space. A 4×8-foot sheet of plywood will go flat on the floor, and 10-foot-long 2x4s will even fit, between the front seats when the center console is removed. The floors are lower than they are on SUVs, so loading is easy. The Lazy Susan-like cargo area under the second-row floor carries a space-saver spare tire. With the third-row seats in place, a well contains groceries instead of allowing them to roll all over the place as they do in most SUVs.
High-quality cloth upholstery is used in the LX and EX, leather in the other three models, with carpeting and soft-touch panels above the muddy foot zone. The LX doesn't feel cheap like a commercial vehicle, while the Touring model is as luxurious as a nice Accord. The Odyssey is full of useful bins and good ideas. If you've never owned a van, the Odyssey makes you wonder how you managed without one.
The dashboard, center stack and controls are conventional, and the styling is conservative. Some others' wood-grain trims and leathers may be fancier, but no more functional and no better assembled. Indeed our only gripe was wishing the shift-lever had an indicator light in it rather than just the in-instrument display.
The primary gauges are easy to see through the steering wheel, which can be tilted and telescoped. Any of four displays at top center is shaded by a hood, and we could see them even wearing polarized sunglasses. Center vents frame the climate controls, including a sync button to match all the zones. Below those another screen for audio functions, with the audio/navigation controller at bottom: There are times you're not sure which screen your input will show up on, with some audio functions appearing on the audio screen and some on the upper (navigation/camera) screen.
The rear climate controls are above the right sliding door, where only a kid could spill a milkshake on them. There are eight overhead vents for the back two rows and on some models window shades fore the second, or second and third, rows.
A power driver's seat is standard. Adjustable pedals are unavailable. Some drivers will find their right leg resting against the center tunnel which is not padded.
The Odyssey chassis uses active noise cancellation and active engine mounts to minimize unwanted noise. A laminated windshield reduces wind noise in the Touring. In the middle row, any noise comes from the sliding door, and in the third row it comes from the rear tires. We found it is easy to carry on a normal conversation at freeway speeds.
The view out the windshield from the rear seats is very good, with tidy pillars and front headrests. Of course, if the passengers are watching a movie using the available entertainment system, the drop-down screen takes away visibility, but that's how it goes, it's worth it. Having six passengers in back will be more of an issue, because the center shoulder belts anchor in the roof on opposite sides. Upper models have parking sensors, multi-view rear camera and blind-spot warning, but in the rearview mirror, the driver can see through the right rear anyhow, unlike some SUVs with thick pillars.
There's a generous 40.9 inches of legroom in the second row with the seats lid rearward, with enough room behind that for your 6-foot, 3-inch correspondent. The seats can be moved apart so that three child seats will fit, or you can have two child seats and still be able to move the third section for back-row access. The middle section slides forward for an easier reach for front-row occupants, or creates a large center armrest, and all can be removed for cargo. One lever will fold, tilt, slide or remove the seats. We love it all.
Third-row seats set a new standard in legroom, with as much space as the front seats in a Cadillac Escalade: a cited 42.4 inches. It's three-wide for kids and two for adults, with good headrests. Like the second seat, the split-folding third-row seat can be folded into the floor with one tug. It's like magic, and it works great.
If gadgets and details make the minivan, the Odyssey does not disappoint. Besides that removable center console, you can get a four-pack coolbox under the dash, grocery bag hooks, more than a dozen beverage holders, four coat hooks, a purse (or trash bag) holder, and bins, cubbies and reading lights throughout. Indeed, the Odyssey is a great vehicle for six adults out on the town.
The ultimate gadget for many will be the Odyssey Touring Elite's built-in vacuum cleaner. Neatly stowed in the left rear cargo area wall (where lesser models secure the second-row middle seat not in use), the Shop-Vac built HondaVAC unit runs for 8 minutes on battery, indefinitely with the engine running, and can reach anywhere in the van. A leading consumer publication that knows about vacuum cleaners approved, and we tried dirt, Goldfish, gummy bears and M&Ms without issue; we'd still clean the feet before tracking in beach sand. The vacuum looks and feels like a high-quality unit, with a long, high-quality hose and carpet and crevice tools. Pulling it out and re-stowing it is delightfully quick and easy.
On Odysseys with leather, you can get DVD rear-seat entertainment. On the Touring Elite it's a 16-inch HDMI widescreen that shows side-by-side images or one panorama, using 650 watts driving 12 speakers in 5.1 surround sound. If someone ever asks, "Are we there yet?" you won't hear them.