2014 Hyundai Accent Introduction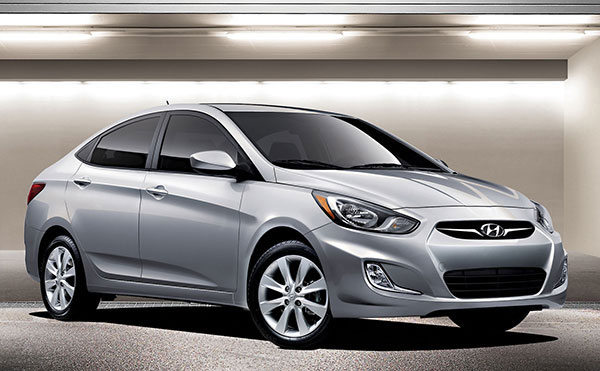 Hyundai Accent comes in two body styles, a five-door hatchback and a four-door sedan with a conventional trunk. As a subcompact, Accent competes against Toyota Yaris, Honda Fit, Ford Fiesta, Chevrolet Sonic, Mazda 2, and Nissan Versa.
According to the government, however, the Accent's interior volume puts it in the larger compact class. Accent is longer in wheelbase and overall length than most of the competition, which means more room inside for people and cargo, and a smoother ride.
Accent was last redesigned as a 2012 model. 2013 brought more standard equipment and more options, including a power sunroof. For 2014, Accent gets more standard equipment: one-touch turn signals, sliding sunvisors, and a driver's blind-spot mirror. The standard audio system has been upgraded for 2014 with improved voice recognition. New projector headlamps with LED accents and a welcome/escort function have been added to the five-door SE and four-door Premium Package models for 2014, along with a tilt/telescopic steering wheel and an automatic-up power window for the driver. A B&M Racing sport shifter is newly available in the five-door SE model.
We found the Accent very easy to drive. It's responsive but not quick, smooth by subcompact standards but not luxurious. Everything in the cabin is intuitive and easy to operate. It's an attractive design and the materials look nice.
With its flowing lines and highly sculpted sheetmetal, the Hyundai Accent looks like a smaller version of the Elantra. That's not a coincidence. Accent shares Hyundai's Fluidic Sculpture design theme with the higher-priced Sonata and Elantra models.
Accent's body shape carries a low coefficient of drag, 0.30, which helps with wind noise and fuel mileage. The designers chose to go with body color everywhere, from bumpers to mirrors to door handles, with black accents and design elements. So, there is almost no chrome trim on the car beyond the grille bar.
A 1.6-liter four-cylinder engine powers the Accent. It's a twin-cam, 16-valve design with direct fuel injection, a first for the class, as well as variable valve timing to give it low-rpm torque and high-rpm horsepower. The engine is rated at 138 horsepower and 123 pound-feet of torque. All-new, like the rest of the car, for 2012, the engine was 40 pounds lighter than the one it replaced. Like the other cars in this class, the Accent uses front-wheel drive.
Accent models come with a choice of 6-speed manual gearbox or 6-speed automatic transmission. On manual-transmission models, an EcoShift indicator between the instrument pods indicates the proper gear for all driving conditions. We liked the 6-speed manual but didn't care for the indicator, as we think we know the proper gear better than the car does. Other drivers might prefer some guidance.
With manual shift, the clutch pedal was light and easy to operate. The automatic features a Shiftronic manual-shifting mode, allowing the driver more control over gear changes. We preferred to just put it in Drive and go.
With automatic, an Active Eco system modifies engine and transmission controls. The standard six-speaker, 172-watt audio system features a CD/MP3, Sirius XM, and iPod/USB auxiliary jacks. Bluetooth is available, too.
Gas mileage, as estimated by the EPA, is just about the same, whether an Accent has an automatic transmission or the 6-speed manual gearbox. Either way, the Combined city and highway rating is 31 mpg. Fuel economy is an EPA-rated 28/37 mpg City/Highway with automatic, or 28/38 mpg with a manual gearbox. Regular gasoline is recommended for Hyundai Accents.