2014 Hyundai Accent Walk Around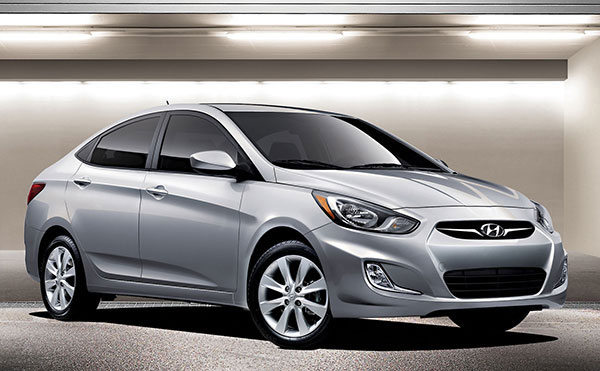 Hyundai Accent was all-new for 2012. Compared to 2011 and older models, however, this new-generation Accent looks like the product of a different car company. No longer a jelly-bean-shaped rental-like transport unit, the Hyundai Accent has grown up to be a real, modern car.
Making that transition required a complete cosmetic makeover, with every panel on the 2011 model replaced by newer and flashier sheetmetal. And there's almost no chrome on the exterior other than the badges.
We like the sedan, especially when compared to the nerdy previous car; but we like the hatchback a whole lot better when it comes to pure eye appeal. Hyundai claims a respectable 0.30 coefficient of drag for the sedan version, and slightly higher for the five-door with its longer roof.
Interior
Like the exterior, the Hyundai Accent interior was totally redesigned for 2012. The latest Accent has a far more modern interior than the previous model, with brushed metal accents on the doors, steering wheel and center console; white-on-black instrumentation with red needles; and a multi-function steering wheel. The elements promise more room and more storage spaces than was the case with earlier Accents.
Sporty bucket seats feature superior cushions and bolsters. We found the seats comfortably supportive without being intrusive. Outward vision is excellent. The instrument panel, center stack, vents, switches and controls are all easy to look at and operate. The instrument package contains the usual two round gauges, with digital readouts and indicators between the deeply tunneled clusters. It's bathed in ice blue light at night.
The three-spoke steering wheel has a thick rim and a thickly padded hub. Lower models have urethane-covered steering wheels; upper models have convenient switches for the sound system on the left, cruise control system on the right, and telephone on the lower left. Flagship SE models wrap the wheel in leather.
As for storage, the rated cargo capacity of the hatchback models is 21.2 cubic feet behind the folding second-row bench seat, and 47.5 cubic feet with the second seat folded flat. Accent sedans provide a still-generous 13.7 cubic feet, which can also be expanded by folding the rear seatbacks.
Door and console storage is generous, and upper-level models have a sliding console armrest, which is unusual in this class.
In the center binnacle, you'll find a USB port and an AUX port, and the two combine to make a port for an iPod cable. It's a very clever arrangement. The interior components add up to a livable, easy-to-use whole with high-quality materials, a minimum of brightwork, plenty of storage, and high functionality.