2014 Hyundai Azera Driving Impressions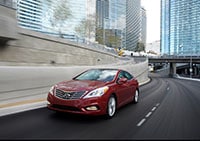 We found the Hyundai Azera quiet and smooth. Not the least of its winning ways is the almost complete absence of noise, vibration and harshness. It's close to totally silent when idling at a stop light, and though it's not quite as silent underway as some of the other cars in this class, it's close. What tire noise there was seemed more related to the optional low-profile rubber on 19-inch wheels than anything fundamental or structural with the car. Tolerances are properly tight between body panels and interior bits and pieces, with nary a hint of a squeak or rattle.
Our 600-mile trek, almost all of it on interstates and including crossing from Nevada into California's Central Valley over the Golden State's Tehachapi range, returned a solid 29 miles per gallon with the speedometer. California's State Highway 99, which serves as the primary north/south truck route for hauling the State's abundant produce to market and is, therefore, somewhat well worn, presented little challenge for the Azera's self-adjusting suspension. Road noise and buffeting from passing 18-wheelers was minimal.
A couple of hundred miles around town pulled the gas mileage down to 24.5 mpg, in large part a consequence of delightful, foot-to-the-floor merges onto local urban freeways. It's not a car that likes to be driven hard on winding two-lanes, taking a bit longer than hoped for to settle onto the suspension when entering a turn and equally casual when pushed quickly through a series of lefts and rights. On those types of roads, we'd probably opt for the Taurus. But as a family car and commuter, the Azera is in its element and easily competitive with, if not the best of, the bunch.
Brakes never squealed or delivered anything but solid, controlled, confident stops.