2014 Hyundai Azera Introduction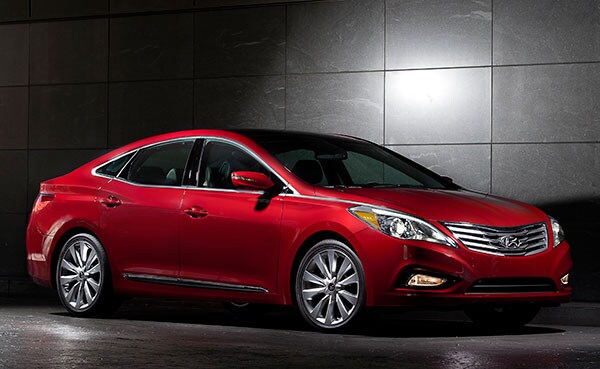 The Hyundai Azera is a four-door sedan powered by a remarkably efficient 293-horsepower, 3.3-liter V6, driving the front wheels through a 6-speed automatic transaxle outfitted with the Shiftronic manual shift feature. EPA-estimated fuel economy for the 2014 Hyundai Azera is 19/29 mpg City/Highway.
Hyundai Azera is larger and more luxurious than a typical midsize sedan. Azera compares well with the Nissan Maxima, Buick LaCrosse, and Ford Taurus. All are large, front-wheel-drive sedans, typically loaded with leather and all the bells and whistles. Azera also competes with entry-luxury rides such as the Lexus ES and Acura TL.
Azera was redesigned and re-engineered from the pavement up for 2012. Changes for 2014 are minor, though a new trim level has been added. The 2014 Azera Limited sedan replaces the Technology Package offered previously, and a new Premium package adds such features as a panoramic roof, sunshades, and 19-inch alloy wheels.
Our test drive revealed the Azera to be comfortable for long distance cruising and economical for urban transport. Azera is smooth and quiet, it gets excellent fuel economy, and its cabin is nicely furnished with quality materials and controls that are easy to operate.
Azera comes standard with features often optional in this class. Heading the list is leather seating (heated in front), along with power driver's and passenger seats, and dual-zone automatic climate control. The Azera Limited sedan adds such extras as navigation, electroluminescent gauges, a power tilt/telescoping steering column, ventilated front seats, and heated rear seats.
Hyundai's Active ECO system reins in throttle response and alters the transmission's shift points to eke out more miles per gallon. Under the right conditions, Hyundai's engineers say this system can boost fuel efficiency by more than 5 percent.
The second-generation Azera's styling presents a less flamboyant iteration of the Fluidic Sculpture motif that debuted on the 2010 Sonata. Where the Sonata's arrays of flowing curved lines flowed strongly and consistently from grille to trunk, the Azera presents, shall we say, an interesting blend of subdued echoes of the marque's motif, with a stately front view, a sporty side view and a classy rear view. The lineage is indisputable, but the Azera's visions are unique. Not all car makers can carry this off, but Hyundai manages to do so with panache.
Interior treatment, materials and finishing are top end. It's everything that's needed, with nothing that isn't, and all where it should be. Controls are well marked and easy to operate. Instruments communicate needed information, as does the available 8-inch touchscreen navigation system with rearview camera display. The interior is roomy, too, ahead of competitors in a number of measurements, not the least being all-important front seat headroom and legroom.
Ride and handling are well mannered. It's tuned for comfortable long-distance cruising and economical urban transport, not sporty handling. Automatically-adjusting shock absorbers smooth high-mileage interstates and urban streets. Capping it off, the Azera adds to Hyundai's recent string of strikingly quiet cars, attributable in part to well-placed sound deadening, but also to sophisticated vibration isolating and motion counterbalancing underhood structures.