2014 Hyundai Elantra Introduction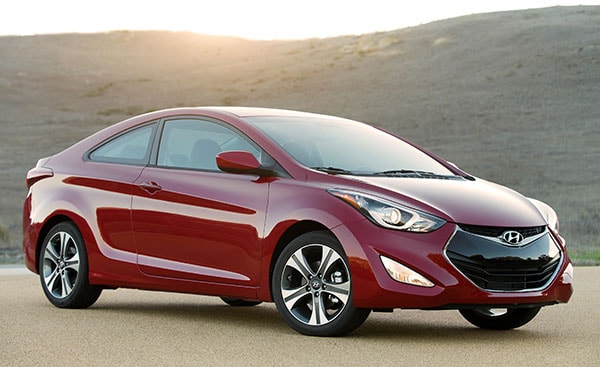 The Hyundai Elantra remains one of the best choices in the compact segment, combining unique design and practicality in a fuel-efficient package. Elantra comes in three basic body styles: four-door sedan, two-door coupe, hatchback GT.
Refreshed for 2014, the Elantra lineup debuts redesigned front and rear styling, interior changes and a new Sport trim level for the sedan.
Elantra Sport gets an all-new 2.0-liter direct-injected four-cylinder engine good for 173 horsepower (25 hp more than the previous generation 1.8-liter model) and 154 pound-feet of torque, along with retuned steering and stiffer suspension. Standard features on the Elantra Sport include 17-inch alloy wheels, aluminum pedals, projector headlights and LED tail lamps.
Elantra LE and Elantra Limited are powered by a 1.8-liter inline-4 that makes 145 horsepower.
Elantra Coupe and GT models are also powered by the new 2.0-liter engine. Coupes get sport-tuned steering, a new rear spoiler and a standard blackout front grille. One well-equipped trim level now replaces last year's two trim level choices. GT models now come with optional LED taillights. As before, Elantra GT offers three selectable steering modes, which offer heavier or lighter steering feel depending on preference.
We have found all the Elantra variants enjoyable to drive. The Elantra sedan's smooth ride and responsive handling make for a plush, but not numb, driving experience. Elantra Coupe and Elantra GT models feel more connected to the road, without sacrificing road-trip comfort. We drove an Elantra Sport and found the new 2.0-liter engine had plenty of power and pull, even while climbing up steep mountain ranges at highway speeds. However, the stiffer suspension made for some fatigue after a long road trip on less-than-smooth surfaces, and we found the new engine's direct injection quite noisy at idle and at slower speeds.
Inside, the 2014 Elantra gets subtle tweaks, including new air conditioning controls and vent placements, and a repositioned center armrest. We found the standard air-conditioning system with manual knobs easy to use, though it has only four fan speeds.
A new 7-inch touchscreen is optional on top-of-the-line Elantra Limited trims, along with a retooled interface that includes improved voice recognition and Pandora integration. Unfortunately, this screen, along with navigation, is not available on base trims. Instead, the only option is a smaller, 4.3-inch touchscreen (standard on Sport and Limited trims), which displays audio, phone and vehicle information, and serves as the display for the rearview camera.
Despite recent controversy over Hyundai's fuel economy ratings, the 2014 Hyundai Elantra still achieves very good fuel economy figures for its class, even after the EPA adjusted its numbers downward for Elantra models. Elantra sedans achieve 27/37 mpg City/Highway with the 6-speed manual and 28/38 mpg with the 6-speed automatic. Elantra Sport sedans are rated at 24/34 mpg with the manual and 24/35 mpg with the automatic. Elantra Limited sedans are rated at 27/37 mpg City/Highway, and only come with the automatic transmission. While driving these cars, we achieved better fuel economy than the EPA figures.
Elantra Coupes are rated at 24/34 mpg City/Highway with the automatic transmission. GT models are rated at 24/34 mpg City/Highway with the 6-speed manual and 24/33 mpg with the 6-speed automatic.
Competitors to the Elantra sedan include perennial favorites like the Ford Focus, Chevrolet Cruze, Honda Civic, Mazda3 and Toyota Corolla. The Elantra Coupe takes on the Honda Civic coupe and the Kia Forte Koup, along with larger, more expensive two-doors such as the Honda Accord. The five-door Elantra GT goes up against popular hatchbacks such as the Ford Focus, Mazda3 and the recently redesigned Volkswagen Golf.