2014 Hyundai Elantra Walk Around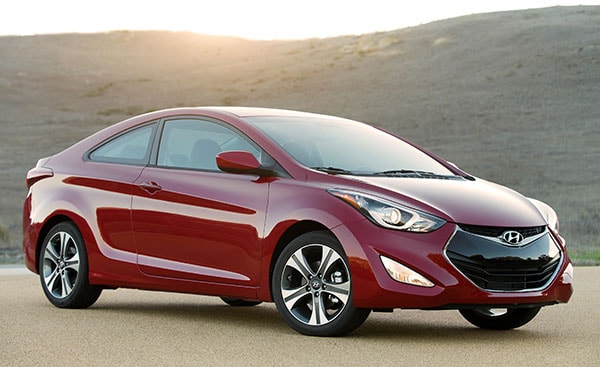 The Hyundai Elantra looks swoopy and busy compared with the larger Sonata, which was redesigned for the 2015 model year in a much more conservative design language that Hyundai dubs Fluidic Sculpture 2.0. But although the Elantra retains most of its styling cues from the previous year, it still looks contemporary, and subtle styling updates for 2014 keep it looking fresh.
A new front end feature a lower open-mouth bumper and redesigned foglights. In back, there's a new rear diffuser. Elantra Coupes get a unique blackout grille with chrome surround and a rear spoiler.
Base Elantra sedans get 15-inch alloy wheels instead of the previous 16-inch steel wheels with covers. Elantra Sport models get two-tone 17-inch wheels and a chrome exhaust tip and rear decklid spoiler.
The Elantra Coupe has a sleeker, wedgier shape than the sedan, without infringing too much on Genesis Coupe territory. Because the coupe is still decently sized, its doors are awfully long, which is most noticeable when getting in and out in tight parking quarters. In back, the rear spoiler, wraparound taillights and dual chrome exhaust tips accentuate the sportier character.
The Elantra GT hatchback design began in California, then was finished off in the studios of Europe, its biggest market. The five-door hatch has a slightly friendlier look, with a large black insert across the signature Hyundai hexagonal grille turned upward into a faint smile. The overall length of the GT is nine inches shorter than the sedan, and also several inches shorter than the Limited model it replaces. But it doesn't by any means look diminutive. Although still a compact hatch, the lines and proportions of the Elantra GT resemble those of larger, more luxurious crossovers. It, too, uses fluid shapes such as wraparound head- and taillights that make it clear the GT is part of the Elantra family.
Interior
Hyundai Elantra's interior is good for the price, marrying style with interesting materials. For example, the headliner employs a mix of material that includes volcanic rock to an interesting effect more attractive than fuzzy cardboard or plastic.
There's a lot of plastic on the inside, and although it doesn't exactly look cheap, it is evident that you're not in a luxury car. Base and Sport models don't feel as luxe as the top-of-the-line Elantra Limited. Still, the layout of the center stack is relatively intuitive, and we were able to find the settings we needed without staring too long.
The instrument cluster and center stack design on all Elantras are clean and simple. Manual air conditioning has only four fan speeds; we'd prefer a wider range of adjustment. While driving an Elantra Sport, we found it took a while for the AC to get cold.
Optional on the Elantra Sport and Limited models is a 7-inch touchscreen with navigation. Standard on the Sport and optional on the base is a smaller screen that displays audio, phone and vehicle information. We didn't much care for the smaller standard display screen on our Elantra Sport, and would much prefer the new (although pricier), 7-inch touchscreen with navigation.
One thing we particularly liked about our Elantra Sport: When plugged in via USB or paired via Bluetooth to a compatible smartphone, voice directions for navigation apps like Google Maps play through the Elantra's speakers, which is a reasonable solution for cars not equipped with navigation.
The sedan has a lot of passenger volume, and particularly roomy up front. Front seats will fit a range of body types from petite to tall, even with a sunroof. Rear seats are also comfortable, with a center floor that's nearly flat and a well-padded center seat that sits slightly higher.
On the coupe and GT models, drivers and front passengers of just about any size will be comfortable, but a steeply raked roofline significantly reduces headroom in the rear. As such, backseat passengers taller than 5 feet, 7 inches will most likely find the tops of their heads rubbing against the volcanic-infused headliner.
The sedan and GT versions offer good outward visibility, despite wide D-pillars, which are a function of new safety regulations. However, rear visibility on the coupe is significantly reduced due to its radically sloped rear window.
All variants of the Elantra boast interior storage that is ample and conveniently located. Door pockets are practical but not cavernous, cupholders will carry everything except Big Gulps, and electronics plugs aren't right next to the cup holders waiting to fill with spilled coffee or cola. Those who prefer to keep their iPods and phones concealed will like the coupe's covered storage area aft of the shifter, while the GT's open console space offers quick access.
Leather upholstery on models so equipped was a bit disappointing and was more akin to vinyl than butter. In some areas, stitching appeared to buckle ever-so-slightly in certain places on seat cushions. Still, you'd be hard-pressed to find real cowhide on other cars for the price.
Trunk space in the sedan and coupe measures nearly 15 cubic feet, more than the Civic or Kia Forte, but shy of the Chevrolet Cruze and Mazda3. The trunk opening on both cars is not huge but sufficient, with 60/40 folding rear seats that increase capacity, although they do not fold completely flat.
The Elantra GT's hatch shape gives allows for a roomy 23 cubic-feet of trunk space, with a maximum of 51 cubic feet with the seats folded down. That's more than the five-door versions of the Ford Focus and Mazda3.