2014 Hyundai Genesis Coupe Driving Impressions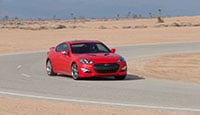 When equipped with the 2.0T turbo four engine, the Hyundai Genesis Coupe accelerates with ample aptitude. In the pre-2013 model, driving at higher speeds made for some unpleasantly rough feedback through the steering wheel. But thanks to the revised suspension for 2013, the Genesis Coupe feels more in control.
On the track, both the 2.0 and the V6 versions were a delight and felt nicely balanced. On 3.8 models, the Genesis Coupe channels engine noise into the cabin, which gives the driver and passengers increased aural satisfaction at higher revs. On regular roads, that sound might be less pleasing.
With the previous engine, we found power lacking in situations like passing on a mountain road. But with the recent hearty bump in horsepower, the Genesis Coupe had enough oomph to maneuver with relative ease. As with the previous incarnation, power delivery in the 2.0T was linear, with virtually no evidence of turbo lag. Shifts in the automatics were smooth and precise. In manual mode, upshifts are controlled solely by the driver, which makes for a closer car-to-driver interaction.
The ride was comfortable on well-maintained Interstates, showing some rough edges only on weathered urban roads, where broad expansion joints and broken pavement sent jolts through the suspension hard points. Road and tire noise was mostly muted, as was wind noise, even at Interstate speeds.