2014 Hyundai Genesis Coupe Walk Around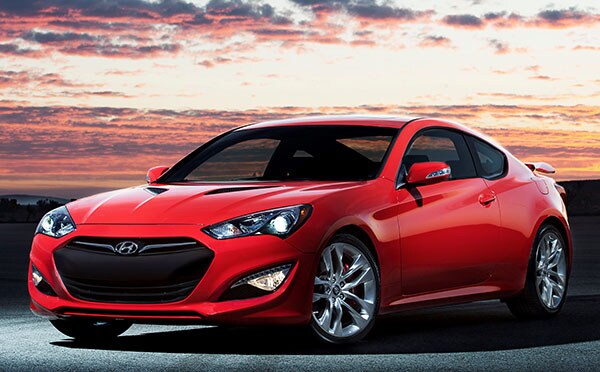 Rarely does a mid-cycle update get new sheet metal, but designers of the 2013 Genesis Coupe refashioned the front hood and grille to display faux air inlets and a larger, big-mouth grin. The updated design got mixed reviews from experts and enthusiasts, as some preferred the sleeker lines of the first generation. LED daytime running lamps also debuted on the revised 2013 front fascia.
Fog lights are standard on all 2014 models. In back are LED tail lights and chromed asymmetric dual exhaust tips, integrated into a blacked-out rear diffuser panel. Exterior colors are named for noteworthy places in the world, including Casablanca White and Ibiza Blue.
From the side, the Genesis Coupe keeps its signature Z-shape character lines. Styling features include an arching roofline and tapered greenhouse, coupled with a wide stance. Genesis Coupes have minimal depth between the fenders and greenhouse. Large openings in front fenders permit optimal engine breathing.
Interior
Interior materials were upgraded for 2013 with a variety of soft-touch materials. Color combinations include tan leather, black cloth and leather combos, and gray cloth and leather pairings. Cars equipped with leather upholstery also get a leather-wrapped parking brake lever.
Unfortunately, some interior materials weren't up to our expectations, such as the plastic bezels and lenses on the three gauges near the bottom of the center stack. Though they were designed to look sporty, they end up looking more like a 1980s Swatch. Though Hyundai touts the genuine stitching on the dash, it's plastic-looking and flat. We had to ask a rep to slide a needle under the stitches to prove it wasn't pressed on. We found some fit and finish issues with interior panels near the driver and passenger knee areas, too, although Hyundai reps told us the pre-production cars we were driving wouldn't necessarily be identical to the versions that would soon go on sale.
The front seats are comfortable but sufficiently assertive to hold one's backside in place during spirited driving, especially in the 2.0T with its basic black cloth. The 3.8's leather is a nice touch of semi-luxury. The back seats are only for small children and, in some states, lower insurance premiums.
The steering wheel feels good, with just the right rim thickness and cross section. On automatics, the column-mounted shift paddles are easy to reach. But on manuals, the rectangular shifter might feel awkward to those used to a round shift knob that fits nicely in hand. Foot pedals are where the driver's feet expect, although placement isn't ideal for those enthusiasts who like to employ heel-toe shifting.
While we aren't fans of the three plastic gauges near the bottom, the center stack layout is easy to use and intuitive. The 7-inch touch screen that comes with the 2.0 Premium trim is sufficient, but not spectacular.
Front-seat roominess is very good by coupe standards. If rear seats must be considered, the Coupe does not fare so well. But what do you care? You won't be sitting back there. Drivers who want rear-seat room may want to opt for the Genesis sedan instead.
Cargo space total 10 cubic feet. The rear seat of the Genesis Coupe folds down to increase cargo capacity, but the opening is small.