2014 Hyundai Santa Fe Driving Impressions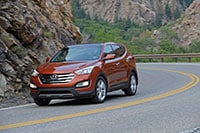 We drove front-wheel-drive base and turbocharged Santa Fe Sport models on city streets and curvy country roads during a press event, then borrowed a 2.0T AWD example for a few days at home. The base 2.4-liter engine's performance seemed more than adequate on flat roads with light loads, but we recommend the available 2.0T turbocharged four for family excursions, especially in hilly country. Wide-open-throttle zero-to-60-mph acceleration with the former takes roughly nine seconds, while the turbo four is about two seconds quicker.
We found our test Santa Fe Sport AWD 2.0T pleasant to drive in nearly every way. Its on-demand performance was ample, its ride quiet, smooth and controlled over most surfaces. Braking was strong, stable and fade-free. Handling fell short of nimble, but as good as most competitors in its class.
The steering mode settings, selectable via a steering-wheel button, add 10 percent effort (vs. Normal) in Sport mode (our choice) and subtract 10 percent in Comfort mode for low-speed maneuvering. The AWD's Active Corner Control, while transparent to the driver, seemed effective in keeping all four tires firmly planted even when driving aggressively.
Our only disappointment was averaging 21-22 mpg in mostly freeway driving, in line with its 21-mpg EPA combined rating, but short of its 24-mpg Highway EPA estimate.
In a brief test-drive, a larger Santa Fe Limited delivered a pleasant ride, along with ample performance from the V6 powertrain. Though it feels rather big, and has loads of space inside, the long-wheelbase Santa Fe drives easily, if with less agility than a Sport. Set against the Santa Fe Sport, and against its own competitors, the bigger, mid-size Santa Fe also comes across as a bit more nondescript, without great differentiation from rivals in its class.