2014 Hyundai Sonata Driving Impressions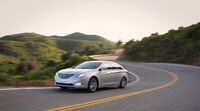 Evaluated on the road, the Hyundai Sonata demonstrates something that has defined best-sellers such as the Toyota Camry and Honda Accord for years: balance. We wouldn't rate the Sonata outstanding in any single area of driving or dynamic performance, but we consider it good in many areas, and that combination makes for an excellent package.
The Sonata's standard 2.4-liter, 190-horsepower four-cylinder engine has been the most powerful base engine in this class. Yet, thanks to advanced controls and features, including high-pressure direct fuel injection, this engine also delivers some of the highest EPA mileage ratings among mid-size sedans. And while most competitors still upgrade with a larger V6 engine, Hyundai takes a different tack with Sonata. Its premium engine is a slightly smaller four-cylinder with a turbocharger. Hyundai's upgrade 2.0T turbo meets or beats the V6s on power, and surpasses them in mileage ratings.
In the sporty Sonata SE model, the base engine makes two additional horsepower and two pound feet of torque, thanks to the standard dual exhaust. Most drivers won't notice the difference, but the SE is nonetheless the sprightliest Sonata. What's noticeable with the base engine is a curious free-wheeling that sometimes occurs when the driver lifts off the gas pedal, like on a mild grade, when a slowing of the car would be expected but doesn't happen. It's almost as if the shift lever is momentarily slid into neutral. It's nothing that unnerves or lingers beyond the briefest of moments, but it's still there.
Gear changes in the automatic occur smoothly: tangibly, but subdued, whether they're selected by the driver via the Shiftronic manual mode or come in full automatic mode. Response to throttle pressure is prompt across the full line of Sonata models. Shifts necessitated by changes in load come almost imperceptibly, dropping down a gear or two without the driver noticing, except that the tachometer needle has jumped a couple thousand rpm. Kudos to Hyundai, too, for sticking with the same automatic for the Hybrid, in lieu of the gearless, continuously variable transmission the competition bolts into their hybrid systems. For many drivers, a hybrid with a transmission that shifts gears just like in a conventional car adds immeasurably to the driving experience.
Our real-world mileage was not terribly out of whack with the EPA ratings. During one leg of a test drive that covered 90 miles split about evenly between both types of roads (city and highway) in Southern California, a Sonata GLS returned 31 miles per gallon while averaging 65 miles per hour, including several extended runs at 75 and 80 mph. A Hybrid managed an excellent 47 mpg over a similar but shorter route, about 50 miles, driven much the same way.
The 2.0T, no surprise, is the most energetic, yet without fussy power surges. Its 84 additional horses and 90 pound-feet of torque over the base four-cylinder boosts performance considerably.
With mild differences in suspension calibration and different tire/wheel sizes, Hyundai has managed to deliver a different ride in each of the Sonata's three trim levels, each fitted to its target buyer. The base GLS delivers a smooth, softer ride, though with some road noise and steering response that's less crisp at modest speeds. The GLS steering feels light, needing corrections in gusty crosswinds.
Ride quality in the Sonata SE is firmer and the steering slightly heavier, the combined effect of different tuning of the power steering assist and shorter, stiffer tire sidewalls. Lower-profile tires sharpen the steering response. The SE's thicker rear stabilizer bar keeps the car on a more even keel when it's pushed along winding, two lane mountain roads. The SE's mass wallows a bit more than that of the Hyundai Genesis Coupe, but the balance of response and comfortable ride is impressive for a sedan of this heft and price. The dead-pedal space to the left of the driver foot well provides good bracing for the left foot on twisty mountain roads.
Though sportier, the Sonata 2.0T models do not deliver Germanic, autobahn-competent sureness. At 130 mph on Hyundai's high-speed track in Korea, we found the Sonata 2.0T showed some twitchiness and vulnerability to cross breezes. A Hyundai is not an Audi, though most of its owners would not expect it to be.
The ride in the Sonata Limited is more supple than gentle, but clearly not firm. Again, it's the Goldilocks syndrome. To the naked ear, the Limited seems quieter, too, although that may be due to a higher grade of interior trim and materials. In this class, perhaps only Ford Fusion buyers will get a more comfortable and quieter ride or, if they pick the right model, a better-handling sedan.
Braking response is strong and linear on all Sonata models, except perhaps the Hybrid. With a system engineered to capture energy and charge the batteries as the car slows, the Sonata Hybrid can be less than smooth under casual braking, at times almost lurchy. It takes a bit longer for some drivers to consistently master smooth slow-down or stopping in the Hybrid.
Otherwise, the Hybrid is almost impeccably smooth. Transitions between motor alone and motor/engine combined are nigh impossible to discern. Hyundai claims the Hybrid can reach 62 miles per hour on battery power and 40-hp electric motor alone before the engine lights off and takes over. This is optimal, though, requiring all accessories to be turned off, pavement as flat as an Interstate in Kansas and the gentlest pressure on the throttle. In normal driving, with only minimal but conscious attention to throttle pressure, 30 mph on the motor alone can be achieved. A thoughtful, fuel-saving touch is a coasting function that shuts down the engine when there's no pressure on the throttle, even at highway speeds.
Still, Sonata Hybrid buyers should consider the economics. As a social, political or environmental statement, the Hybrid makes a fine, functional automobile, but it's a different story when it comes strictly to cost. Based on the EPA's mileage ratings, comparing to the base Sonata GLS and pegging gasoline at $4 per gallon, a Hybrid owner would have to drive the car nearly 150,000 miles before the initial price premium is recovered in fuel savings. The break-even point will decrease if gasoline costs $5 per gallon, but the fact remains: most buyers will not recover the extra $5,000 or so in Hybrid purchase price through lower fuel costs over their span of ownership.