2014 Hyundai Sonata Summary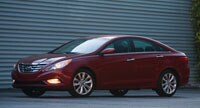 The Hyundai Sonata goes toe-to-toe with established leaders such as the Toyota Camry and Honda Accord with high style, excellent mileage ratings, expansive standard equipment lists and competitive prices. Hyundai has tuned the suspension differently for different Sonata models, so each has its own character, and there's something for every preference. The base Sonata GLS handles Interstates and commuting with ease, while the loaded Limited focuses on luxury. The Hybrid covers the need for green-ness and the Sonata SE is most fun to drive, especially with the 274-hp, upgrade 2.0T engine.
NewCarTestDrive.com correspondent Tom Lankard reported from San Diego, with J.P. Vettraino reporting from Detroit.