2014 Hyundai Veloster Driving Impressions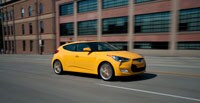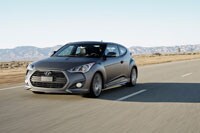 One of our favorite things about the Veloster is its composed feeling on the road. It uses an unusual rear suspension: a V-beam torsion axle with an integrated stabilizer bar, which makes it totally obedient, and there are other good things to make the driving enjoyable. Steering is solid, secure, and gives great feedback.
We drove the Veloster hard through some of our favorite corners and found the car planted and stable. The engine in the naturally-aspirated version is solid and smooth, and is capable in most everyday driving applications. However, those looking for a more performance-oriented sport compact may find it lacking in power.
We weren't crazy about the optional 6-speed Dual Clutch Transmission (DCT). The DCT shifts aren't as sharp as Volkswagen's DSG; they're almost too smooth, stealing feeling from the car. It feels like an automatic, not a manual transmission with some invisible person making perfect shifts for you. Plus, the paddles feel cheap and aren't designed with care. Considering that the DCT costs another $1,250, we'd stick with the sweet 6-speed manual.
The Veloster Turbo ups the ante considerably with its turbocharged, 201-horsepower engine, complete with bigger brakes and tires. It packed enough punch to get us around twisty turns while climbing up steep terrain, and was torquey enough to let us pass pokey trucks on two-lane straightaways. However, we would have liked to hear a beefier growl from the exhaust, which left us feeling uninspired.
On Turbo models equipped with the 6-speed automatic, drivers can choose a sport mode that changes the shift pattern. While we found it shifted at higher revs and held gears nicely through the corners, we still preferred the manual transmission for more spirited driving. We were also disappointed to learn that the Turbo's sport mode did not modify other elements of the car, such as steering feel or suspension.
Fuel economy is one of the most compelling reasons to buy a Hyundai Veloster. The naturally-aspirated version gets an EPA-estimated 27/37 mpg City/Highway with the manual or 28/37 mpg with the DCT. In a hard couple of hundred miles, including two-lanes, freeway and city, we averaged about 29 mpg, with both the 6-speed manual and the DCT.
The Veloster Turbo, meanwhile, is rated at 24/33 mpg with the manual and 24/31 mpg with the automatic.