2014 Hyundai Veloster Introduction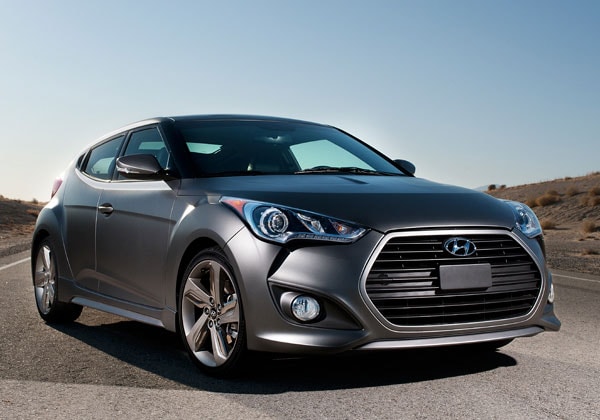 Hyundai Veloster is a sporty, three-door compact car with unique looks, fun driving dynamics and good fuel economy. It launched as a 2012 model with a naturally-aspirated 1.6-liter engine that made 138 horsepower and an admirable EPA estimate of 40 mpg Highway with the standard 6-speed manual transmission. The engine used all the right high-tech stuff to get these numbers, such as Gasoline Direct Injection (GDI) and Dual Continuously Variable Valve Timing (D-CVVT).
Late in 2012, however, Hyundai was compelled to reduce the fuel-economy estimates of several models, including the Veloster, because of testing errors.
For 2013, the Veloster Turbo joined the lineup. The Turbo holds a turbocharged version of the 1.6-liter four-cylinder engine for a peppy 201 horsepower and 195 pound-feet of torque, along with bigger brakes and tires.
Like the base Veloster, the Turbo gets a standard 6-speed manual gearbox. A traditional 6-speed automatic with Shiftronic is optional. The naturally aspirated Veloster, meanwhile, has a dual-clutch automatic as the optional transmission. With automatic, engine output dips to 132 horsepower.
The Turbo's increased performance predictably takes a toll on gas mileage, achieving an EPA-estimated 24 mpg City and 31 mpg Highway with the manual gearbox and 24/33 mpg with the dual-clutch automatic. That compares to 27/37 mpg with the base engine and manual shift (26/35 with automatic).
For 2014, all Velosters gain a rearview camera, driver's blind-spot mirror and daytime running lights as standard equipment. Turbo models add standard Torque Vectoring Control, along with Active Sound Design in-cabin powertrain sound enhancement. Automatic temperature control is newly standard in the Turbo.
Starting in February 2014, a new Veloster Turbo R-Spec edition will be available, with unique suspension and steering tuning that promises enhanced agility and feel. The 6-speed close-ratio transmission gets a new shift knob, and the short-throw B&M Racing Sport Shifter is said to yield a tighter, high-precision feel. Red exterior accents will be optional. Inside, the R-Spec's sport seats feature red leatherette bolsters with red/black cloth inserts.
The 2014 Hyundai Veloster Turbo distinguishes itself from the naturally-aspirated Veloster with a huge front grille, a body kit, different front and rear bumpers, a rear spoiler and upgraded standard features such as leather upholstery, heated front seats and pushbutton start. All Turbos ride on larger, 18-inch wheels. The Veloster Turbo is even available in a matte gray paint color, must be taken care of meticulously by hand.
Veloster styling gets a lot of looks on the highway, although we think it's a tad overdone. The third door is on the passenger side, hinged at the front like a real door. With other three-door compacts, the third door can be awkwardly hinged; not so with the Veloster. It's easy to climb in and out of the back seat, and total interior volume is best in the sporty compact class.
Much of the Hyundai Veloster was designed and developed in the U.S., most notably the rear suspension that gives Veloster an excellent all-around ride that's dialed-in but still comfortable. Steering is solid, secure, and gives great feedback; cornering is stable. Veloster is front-wheel drive.
Veloster seats four. Interior details include nice support at the right thigh, good feel with the three-spoke leather steering wheel, pleasing uncluttered gauges, and digital information that's easily accessed. There's a blind spot at the C-pillar over the driver's shoulder, and the horizontal structural support in the fastback glass liftgate restricts visibility, but it still offers better views than most other coupes.
Competitors include the Fiat 500, Honda Civic hatchback, Mini Cooper Clubman, Volkswagen Beetle and Volkswagen Golf. The Veloster Turbo goes up against sportier, more powerful versions of these compacts like the Fiat 500 Abarth, Honda Civic Si, Mini Cooper Clubman S, Volkswagen Beetle Turbo and Volkswagen GTI. The Veloster might not have the cachet enjoyed by some of the competition, but it offers excellent value for the money and superior fuel economy.