2014 Hyundai Veloster Walk Around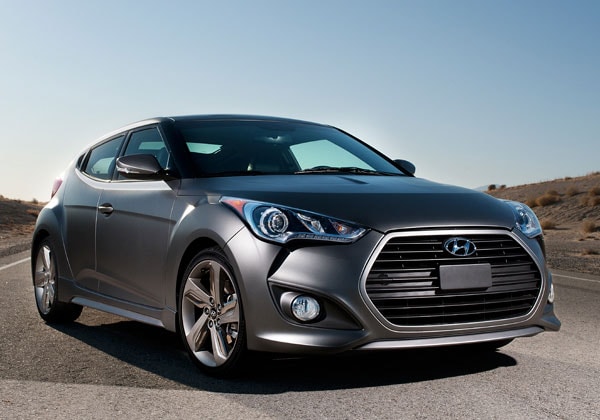 Visually, the Veloster sets itself apart from other Hyundai models with a bolder, busier design. Unlike the cleaner lines of Hyundai's sedans, the Veloster's muscular shape is riddled with lumps, scoops and scallops.
But take a couple of steps back, and the Veloster doesn't look so bad. The nose is low, and from a three-quarter rear view, it looks tough on its haunches. The standard Veloster's mouth is as wide as an Audi's, but it's filled in with body-colored plastic, shaped to resemble wings; but to some eyes, they might look more like Superman's shoulders while flying, with a chrome cape and silver H for a face.
The Veloster Turbo gets an even bigger, all-black mouth that looks to be all air intake, as well as different fog lights, LED accents around the headlights, and side mirrors with integrated turn signals. In back, the Turbo sports a rear spoiler, LED tail lights and large dual exhaust tips. All Turbos ride on 18-inch wheels. Inside, pushbutton start, leather upholstery and heated seats come standard, as well as an upgraded audio system.
Offering Matte Gray color for the Veloster Turbo has been a gamble for Hyundai. The special clear coat that provides the matte appearance must be maintained meticulously. Buyers who plunk down the extra $1,000 for this color receive a car-care kit with cleaning products they can use at home, since the matte paint can't go through a traditional brush car wash, and most detailing products are designed to make paint shine. Customers must sign a release form that acknowledges that the paint must be taken care of in a particular way. Hyundai execs admitted they couldn't vouch for long-term longevity and said second owners could prove to be a challenge. This isn't unique to Hyundai, however. Other cars, including expensive luxury cars, with flat paint colors face the same challenges. They look really neat when in good condition, though.
On the passenger side, the Veloster's third door is hidden, except for the seam. Rakish upsweep meets a racy roofline, with a virtually invisible door handle in the window corner. Thankfully, the window trim is black.
The single center exhaust on the standard Veloster is like Siamese twin trapezoids, outlined by chrome, while the Veloster Turbo gets dual, side-by-side exhaust tips in the same spot. Both versions are boxed in by a big black plastic fascia that makes the rear end look almost frog-like. But in a good way.
Interior
Veloster seats four. Hyundai says the interior design was inspired by shapes on a sport bike. They say the A-pillars are like a helmet visor, the center stack resembles a fuel tank, the console mirrors a motorcycle seat, and air vents are inspired by tailpipes. Mostly, we noticed overkill on the trapezoidal trim pieces.
On the standard Veloster, we noticed terrific fit and materials of the Style Package seats, nice console support at the right thigh, good feel of the three-spoke leather steering wheel, pleasing uncluttered gauges, and digital information accessed easily. A 7-inch touch-screen is standard, with three interface layouts to choose from. Features include Bluetooth, Pandora internet radio via iPhone, and Gracenote music connectivity. A 196-watt six-speaker audio system is standard, while the 450-watt eight-speaker system comes with the Style package.
The Veloster Turbo adds extra touches including aluminum pedals, pushbutton start and heated front seats. Leather upholstery is standard, but it felt more plastic than plush, and we noticed that stitching around the driver's seat had already begun to buckle in some places.
Rear visibility has a couple of problems. There's a big blind spot at the C-pillar over the driver's shoulder, which is typical for cars with this type of roofline. Although the structural support in the fastback glass liftgate blocks rearview visibility, overall it's still better than some hatchbacks on the market, such as the Toyota Prius and Honda CR-Z.
The backseat is easy to get into, thanks to the Veloster's front-hinged third door. Rear legroom measures 31.7 inches, which is scant for those who regularly carry backseat passengers, but good for the compact segment. Total interior volume is best in its class, beating the Scion tC and pulling far ahead of the Mini Cooper. It even beats the Mini Clubman, by 105.3 to 89.2 cubic feet.