2014 Jaguar F-Type Introduction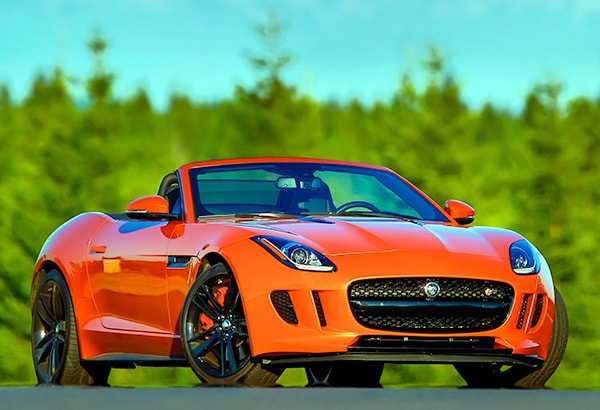 The Jaguar F-Type is a sensational new car, the first true sports car Jaguar has built in 40 years. We think they nailed it. It's difficult to build something in 2013 that's true to a heritage from so far back without making a car that's crude and retro. Jaguar has done as good a job as possible, although the interior could be less 2013, less swoopy, and still be comfortable and functional.
The F-Type is only available for now as a convertible, although a coupe is inevitable and it will be drop-dead gorgeous. The aluminum shapes are created masterfully. A black egg crate grille complements the design while clearly saying it's a Jaguar, including the shark-like gills on each side. From the top corners of the headlamps, shaped like smooth bending trapezoids, a sharp character line travels over the front fender, past the door and onto the rear deck. Door handles are flush with the body.
The interior has two personalities, from the passenger seat and driver seat. On the right side, it feels remote and not much like a sports car. A big dashboard feels so far away. Everything is leather-clad. The passenger is further separated from the driving experience by a wide vertical grab handle to the right of the gear lever.
But for the driver, this cabin that Jaguar calls asymmetric comes to life, with controls and instruments canted toward him or her. The panel is clean and sporty. The speedo and tach are large and clear, but the numbers seem processed compared to simple white-on-black gauges like we wish the F-Type had for the sake of its heritage.
The bucket seats are excellent, no complaints there. The leather-wrapped steering wheel is nice and fat (flat-bottomed is optional), and the paddles are well designed.
The aluminum architecture and chassis structure is the most advanced and best ever. Riveted and bonded, it's the lightest and most rigid ever designed, at no small expense. The aluminum development includes the body panels, with sensational special contours that took scores of tries to get right, and seams tighter than ever. The F-Type weighs in at a slim 3521 pounds.
There are three models, with the supercharged V6 S making 380 horsepower and supercharged V8 S making 495. We got both F-Type S cars on the track, where the V6 worked better because it's better balanced. The rigid aluminum double-wishbone suspension front and rear does an amazing job of keeping the car precise. In fact, the V6 works better everywhere, except maybe in spurting to pass on two-lanes, and on the European motorways traveling at super high speeds.
Ironically, there are more German than British parts in the F-Type, by 54 to 40 percent.