2014 Jaguar XF Introduction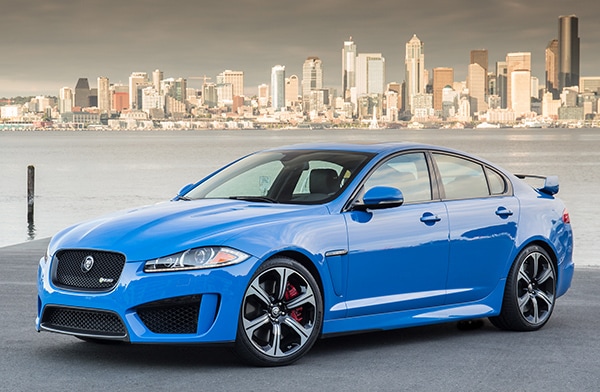 The 2014 Jaguar XF is a solid, stylish midsize luxury sports sedan with rear-wheel drive. Elegant, flowing lines make it a more visually interesting alternative to many of the better-selling cars in its class. The Jaguar XF has presence, that intangible quality that allows it to stand out in any line of similar luxury sport entries. Underway, the Jaguar XF is smooth, quiet, and comfortable.
A range of engines is available for the 2014 Jaguar XF, all of them blown: a 240-hp turbocharged 2.0-liter inline-4; a superbly powerful and efficient 340-hp supercharged 3.0-liter V6; a 470-hp supercharged 5.0-liter V8; and a 510-hp supercharged V8. All are outstanding in their own way. All are mated to 8-speed automatic transmissions.
New for 2014 is a limited-production, super-fast XFR-S model with a 5.0-liter supercharged V8 that cranks out a door-blowing 550 horsepower. XFR-S features a track-tuned suspension and many high-performance upgrades. Availability will be limited to only 100 units.
The 2014 Jaguar XF lineup offers some new packages and options but is otherwise unchanged over last year. For 2014, the Vision Pack adds safety features including a blind spot monitor, adaptive front lights, automatic high beams and an auto-dimming rearview mirror. A Premium Pack includes a voice-activated feature and keyless entry on 2014 models. A new Performance Pack for the 2014 XFR adds a sport exhaust, upgraded suspension and brakes. The Jaguar XF was launched as a 2009 model; engines were upgraded for 2010, and the styling was revised for 2012.
We found all variants of the 2014 Jaguar XF pleasurable to drive. The four-cylinder engine feels and sounds better than expected. With linear acceleration, a seamless transmission, engaging steering and responsive brakes, the Jaguar XF's driving dynamics are as solid as that of any of its competitors. We especially liked Jaguar's all-wheel drive, which is well-suited to wet and snowy climes.
The Jaguar XF interior is dignified but a good bit plainer than the deluxe XJ. Upon entering and pushing the Start button, the HVAC dash vents scroll open and the JaguarDrive knob pops up to greet you. The leather seating is all you could ask of a luxury sports sedan, and the driving experience in this very adult English sedan is a thing to be looked forward to.
One of Jaguar's traits is its resistance to technology for technology's sake, which is good for those who don't want their cars to be rolling personal computers with distracting interfaces. Those looking for smartphone integration with apps like Facebook and Twitter, streaming Internet audio, and the latest navigation system will have to look elsewhere.
Competitors to the 2014 Jaguar XF include Audi A6, BMW 5 Series, Mercedes-Benz E-Class, Lexus GS. While all of these cars might boast higher sales volumes, the Jaguar remains a great choice for those who want something different, provided the latest in-car technology isn't a priority.