2014 Jeep Cherokee Driving Impressions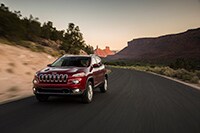 The first thing we noticed when we drove the Jeep Cherokee is how tight it is, smooth and solid with a firm ride. The steering is precise for an SUV, using a steering wheel that's satisfying in its shape and function. The steering column made a bit of noise when we turned the wheel on at least one model, however.
We got good seat time in both the 2.4-liter four-cylinder and the 3.2-liter V6, with their new 9-speed automatic transmission. You read that right, 9 speeds, squeezed into a box of gears not much bigger than a breadbox. Bold engineering by Chrysler, where good things are happening. We don't mean to write ad slogans, but it's true.
The V6 we drove wasn't much smoother than the four. The four-cylinder has plenty of power for daily needs, and to cruise easily at freeway speeds. The V6 is for people who like more acceleration performance, or who tow. The four-cylinder is rated to tow 2000 pounds, the V6 with tow package a class-leading 4500 pounds. If you don't tow often, the four-cylinder will be fine. The 9-speed gearbox will help. It will be busy.
During a day-long drive over varied terrain of freeways, winding two-lanes, mountains and off-road, we watched the transmission do its thing. Theoretically, a 9-speed transmission would shift almost twice as much as a 5-speed; but not in this case because the ratio of 5th gear is 1.00:1. So 6th, 7th, 8th and 9th are all overdrives, to reduce rpm's at highway speeds and increase fuel mileage. With drive ratios of .81, .70, .58 and .48, there's very little rev change with each shift, so you don't often feel more than five gears.
Shifting function is especially important in the Cherokee because in the Manual mode you've got those 9 speeds to play with (overdrive notwithstanding). But after you're in 5th gear, you might as well go back to Auto. Except in Auto, it almost never gets up to 9th on its own. Overall in Manual mode, it shifts a lot on its own, including casual upshifts at 2500 rpm.
There are more than 40 shift maps for conditions and forces that software detects, meaning that there's only a 1-in-40 chance that whatever we say about when it shifts will be correct. It's going to shift a lot. We didn't find it intrusive.
Like them all, it's programmed to shift based on data from sensors trying to read the road conditions and your pace and style. It seems not unlike Google noting your surfing and sending the info to advertisers who try to give (sell) you what you want, on your screen. If you think that invades your privacy, wait until government takes over the black box that records your every move behind the wheel.
The other thing with the new 9-speed is reliability, and time will tell. The transmission has four gear sets and six shift elements, including multi-disc clutches, dog clutches and brakes. Just more parts to break, the off-road old-timers with 4-speeds would say.
With the four-cylinder, having less torque than the V6, the transmission kicks down more, however the Sport mode in 4×4 Selec-Terrain, keeps it in the gears longer. We got 22.3 miles per gallon on the winding roads and freeway; it's EPA rated at 21/28 mpg City/Highway with 4×4. In the V6 the mileage dropped to 18.1 mpg; it's rated at 19/27 mpg.
After driving the smooth four-cylinder Latitude, we expected the V6 Limited to be super smooth, but there's some engine noise. But put your foot down and it flies, it's fast. The handling is good but it's not as attached as the four. The electric power rack and pinion steering ratio is the same, but the V6 steering is lighter. And the ride is softer and smoother; it doesn't take undulations as well as the Latitude, but speed bumps are gentler. The V6 feels bigger because it handles heavier due to the weight of the engine, true of all but the most carefully balanced and sophisticatedly suspended cars, none of them SUVs.
But the knockout punch with any Jeep is off-road capability. We spent a few hours facing off-road challenges in a Trailhawk. It breaks new ground, in particular in descent control. It will do amazing things. For some of those things it doesn't need or want your feet to be involved, to screw things up. It will climb up rocks and back down with your feet in the air; the driver just steers, and the machine takes itself down over treacherous terrain perfectly, safely. The descent advancement is that the driver can control the speed in .2-mph increments. That's way better than before.
The transmission uses a numerically high 4.7:1 ratio for first gear, for quicker standing-start acceleration. Coupled with the 4.08:1 final drive with the I4 (3.52:1 in the V6), and the Active Drive II or Active Drive Lock, that delivers a crawl ratio of 56:1, nearly as high as that of the Jeep Wrangler.
Unfortunately we didn't get a chance to test the traction of basic Active Drive I. Just because the Trailhawk with Active Drive Lock has offroad capability beyond real-world needs, it doesn't mean that Active Drive I will keep you moving in two feet of snow, sand or mud. However there are modes for those conditions in Selec-Terrain, and it is a Jeep, so we have faith.
At the introduction of the new Cherokee, we were given the opportunity for comparison spins in a Honda CRV, Toyota RAV4, and Ford Escape. Cherokee blew them out of the water. Compared to the Cherokee, the Escape is more nimble but has a mere 5-speed; the RAV4 has no feel and its transmission intrudes; the CR-V is boring and it labors.
The Cherokee claims the categories that matter, for example character, spirit and looks. It has a personality: decisive. Compared to the others it feels like an Alfa Romeo.