2014 Jeep Compass Introduction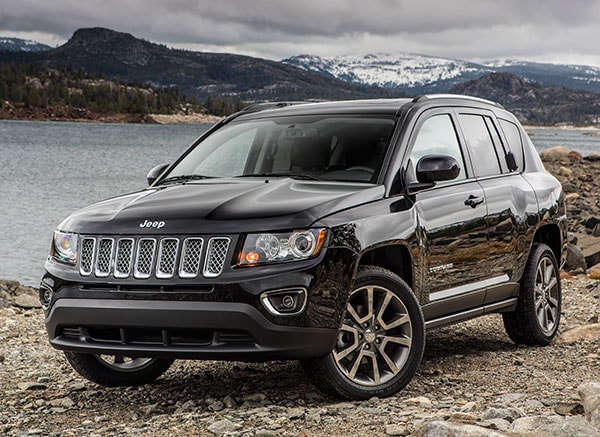 Redesigning for 2011 transformed the Jeep Compass into a whole new vehicle. Not as in all-new, but gaining an entirely new, real-Jeep character. That's because all the right changes were made, both mechanical and cosmetic. The styling is less original than the first (2007-10) generation; and where Jeeps are concerned, that's a benefit. That early Compass never looked much like a Jeep, and couldn't go off-road like one, either.
The Compass is built like a car and drives like a car. Yet, it possesses much of the versatility and capability associated with a small SUV. Compass has a strong steel structure and a well-planned subframe. Side-curtain airbags and electronic stability control with anti-rollover sensors are standard.
It's still not as rugged as a Wrangler, by any means, or even a Patriot. However, a Compass stacks up well against other entry-level SUVs, including Honda CR-V, Hyundai Tucson, Kia Sportage, Mitsubishi Outlander Sport, Nissan Rogue, Subaru Forester, and Toyota RAV4.
Compass is available with two engines and two transmissions, in three trim levels, with either front-wheel drive or all-wheel drive with a choice of two levels of the active 4×4 system.
For 2014, Jeep Compass has been updated inside and out. A new 6-speed automatic transmission became available, standard on 2014 Compass Latitude and 2014 Compass Limited models and optional for the 2014 Compass Sport. A continuously variable transmission (CVT2), with a crawl ratio for off-roading, remains as an option for all three trim levels. Front seat-mounted side-impact airbags became standard for 2014, and a rearview backup camera joined the option list.
With the optional Freedom Drive II off-road package, the Compass earns Jeep's Trail Rated status, making it a worthy choice for moderate off-road treks, even if it could never match the hard-traveling prowess of a Jeep Wrangler with its two-speed transfer case.
Inside, the instruments and controls are well placed and easy to use. There's good interior space all around, with rear seats that fold flat to provide almost 54 cubic feet of cargo space. Options for added versatility include reclining rear seats and a front passenger seat that also folds flat, creating either a table or an eight-foot-long space for storage.
As an alternative to standard front-wheel drive, buyers can choose Jeep's Freedom Drive I or Freedom Drive II Off-Road Package. Freedom Drive I is full-time all-wheel drive, delivering almost all of the torque to the front wheels until more traction is needed at the rear (with up to 60 percent available there). A lock mode may be engaged for snow, sand and mud.
For rugged off-roading there's Freedom Drive II, which is Jeep Trail Rated. It uses a continuously variable transaxle (CVT2) with a low range that engages when Off-Road mode is activated. Included are 17-inch all-terrain tires and aluminum wheels, raised ride height, a full-size spare tire, skid plates, tow hooks, fog lamps and manual seat height adjuster. On the down side, Freedom Drive II is likely to give up 2 or 3 mpg in fuel economy.
The standard engine is a 2.0-liter four-cylinder making 158 horsepower and 141 pound-feet of torque, with 5-speed manual shift or coupled to the CVT with Autostick manual mode that the driver can shift up and down through six preset gear ratios. With the 5-speed manual transmission and front-wheel drive, the 2.0-liter delivers an EPA-rated 23/30 mpg City/Highway.
The proven 2.4-liter four-cylinder engine produces 172-horsepower and 165 pound-feet of torque. Standard on the Limited and available for the others, it uses dual Variable Valve Timing (VVT) on both intake and exhaust camshafts. That helps optimize the torque curve at all speeds and produces more power, better fuel economy and smoother, quieter operation.