2014 Jeep Grand Cherokee Driving Impressions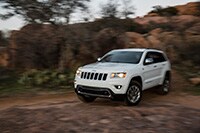 The EcoDiesel engine and 8-speed transmissions are the big deals for 2014. The 8-speed automatic improves the EPA fuel-economyt rating of every model and increases performance available.
Three more gears make it easier for the engines to work at the most efficient speeds. At full throttle, acceleration is notably improved. At a mild pace, calls for more power downshifts are quicker and less jarring, and at cruising speeds it just lopes along. Gear changes are quick and seamless; most drivers won't realize how often it shifts.
The 3.6-liter V6 is a fully competitive engine. Like most new engines it favors revs and horsepower over torque, not ideal for heavy rolling stock but not an issue with eight forward gears. Unless you plan on towing, the 3.6-liter gets the job done. Remember, semi-trucks were making do with 290 hp and lots of gears when Jeep was just discovering round fenders. EPA ratings are 17/25 mpg City/Highway (17/24 mpg with 4WD).
The 5.7-liter V8 adds a muscular exhaust note, 70 horsepower and 130 pound-feet of torque. Top tow rating is 7400 pounds, roughly a ton more than we'd put behind something this size, and EPA mileage is 14/22 mpg (14/20 mpg 4WD).
The diesel is the way to have fuel economy and towing grunt when needed; you'll need a spreadsheet (with fun-to-drive, towing performance, highway range and other objective columns) to find the payoff point for the $4500 option.
This modern clean diesel delivers 240 horsepower but 420 pound-feet of torque more than 2000 rpm lower on the tachometer than the gas engines. At 75 mph in top gear it is near peak torque and just goes, where the others will need a drop (or 3) in gear. It is hardly noisier than some gasoline engines, doesn't smoke, and gets the Jeep moving briskly with ease.
EPA says 22/30 mpg (21/28 mpg 4WD) for the diesel. In a loaded 4WD Summit we managed a lowest of 19 mpg doing two miles across town in 8 minutes, and a best of 31 mpg on undulating two-lane at 65-75 mph. In a rear-drive model on smaller wheels you might see 35 mpg with some throttle restraint on highways.
Though heavy, the Grand Cherokee chassis is quite rigid, one key to the feel of overall quality. When you combine a rigid chassis with a well-executed independent suspension, the result is a vehicle that feels much like the German triumvirate it competes with. Three tons of people and car are not ideal for swift directional changes but the Jeep goes where you point it, soaks up bumps big and small and delivers a comfortable, worry-free drive.
Apart from the SRT, our favorite Grand Cherokee to drive was a 2WD Laredo with E pack and some options. It's more than 800 pounds lighter than the tubbiest Grand Cherokee, with a lower percentage of weight on the front end, and the 18-inch tires are more compliant.
Worth noting: Every high-end example we saw on 20-inch wheels wore Goodyear Fortera tires, while every lower-trim Grand Cherokee on 18-inch wheels had longer-wearing, higher-rated, more-expensive Michelin Latitude tires. We also find that many people buy a 4WD for the snow, but none of these are snow/winter tires. A set of proper winter tires on a 2WD Grand Cherokee will stop and turn better, and often climb as well, in snow and ice than a 4WD on its standard tires. Of course, the optimum winter setup will be a Grand Cherokee 4WD with snow tires.
A short trail course shows the 2014 Grand Cherokee will go where any previous Grand Cherokee will go unless it can't squeeze between the trees or boulders. Few owners will do this in a $50,000 bling-mobile and fewer yet will take the front air dam off with tools first. But if you pop for Quadra-Drive II and the air suspension, only ten or so other utilities might cover the same ground.
Driving off-highway is even easier on the 2014 Grand Cherokee thanks to a 44-percent better crawl ratio (axle ratio x low-range ratio x first gear ratio), because of the 8-speed that enthusiasts will appreciate and, on V8 models, Hill Ascent that controls climbing speed just as Hill Descent controls downhill progress. With its massive low-rpm torque the diesel doesn't need anything more than a steady, light throttle foot to climb.
An important note here that the air suspension and low-range four-wheel drive are not available on the $29,000 base all-wheel drive; plan on spending nearly $40,000 minimum for that level of trail ability. The all-wheel-drive system on base models is meant for mild off-road use and inclement weather; low-range gearing is available as an option on Laredo E, standard on the diesel and V8.
On the off-road course, Selec-Terrain electronically coordinates powertrain, braking and suspension systems, including throttle control, transmission shift, transfer case, traction control, and electronic stability control. What this means is that anyone following the spotter's steering instructions could have driven the Jeep over these terrain challenges. The computers did it all. Where a dead battery in the original Jeep was merely an inconvenience it may well render this one a fancy umbrella.
The SRT uses a 391 cubic-inch V8 like that in the Challenger 392 and other rear-drive SRT sedans. With 470 horsepower, 465 pound-feet of torque, a crisp-shifting automatic, full-time all-wheel drive and foot-wide sticky tires it goes quickly. Jeep didn't claim any big improvement in 0-60 time but even without a timer you can tell those extra gears made it quicker. Acceleration lifts the bow and braking brings nosedive, both tradeoffs for the solid roll control to keep the big, 5200-pound box stable. Don't even think of driving it off road.
Virtually every component that affects performance, be it bodywork, cabin pieces, electronic or mechanical is addressed by SRT, resulting in a package that isn't overpowered, underbraked or unable to use its power. On the contrary, the SRT likes to be pitched into a turn where it takes a set and you simply stand on the gas and let the all-wheel drive sort out the traction; the dynamics are impressive at this price. Like BMW's X5M, Mercedes's ML63 AMG and the Porsche Cayenne Turbo, the Grand Cherokee SRT proves a utility vehicle can make good time on the pavement: A multi-million-dollar Formula One car does 205 mph on the backstretch at Circuit of the Americas and an $65,000 SRT does 135 mph. With all 19 speakers working Sammy Hagar.
The Grand Cherokee gets adaptive dampers from Bilstein, meaning a choice of Touring comfort, which is fine even for unknown winding road, and Sport, in which things are buttoned up tighter. If your race car tends to break down and you want to keep running for the weekend, this might be the best way to tow the race car to and from the track. Just use your tow vehicle as your back-up race car.
Of course the SRT carries penalties typical of super-sport utility vehicles. Gas mileage is usually closer to the EPA city rating of 13, and the tires, easily used up making a heavy truck work like a sports car, are $475 each.