2014 Jeep Grand Cherokee Introduction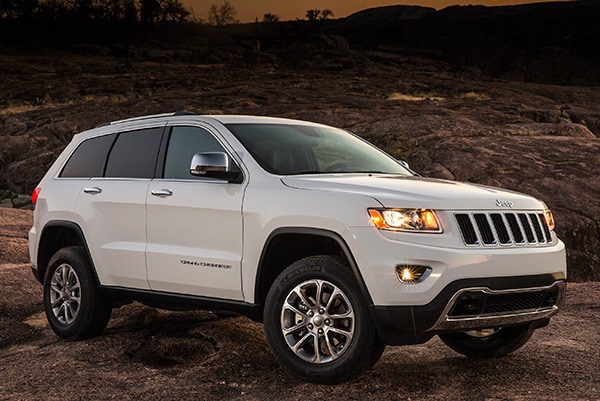 2014 marks a mid-life refreshment for Grand Cherokee. All 2014 Grand Cherokee models come with a new 8-speed automatic transmission, replacing the previous 5-speed. And a new EcoDiesel V6 engine is available that provides good performance and fuel economy. Inside, the 2014 Grand Cherokee gets updated electronics. To mark these changes, the 2014 Grand Cherokee gets mild exterior styling changes and the interior gets some new color schemes.
In most cases the 2014 Jeep Grand Cherokee is more expensive than last year, but it also offers more equipment (in some other Chrysler products the 8-speed automatic is a $1,000 option). Every model except the SRT is offered with rear-wheel drive or all- or-four wheel drive. The rear-drives account for a small fraction of sales, but they get better fuel economy and claims of 30 mpg Highway is worth a small fortune to Jeep.
This is a sport-utility for a family of five. They will fit better than four big adults, yet the Grand Cherokee offers competitive cabin and cargo dimensions. Trim varies from cloth upholstery and faux wood to piped, perforated leather with real open-pore wood and suede-like headliner. Upgraded electrical systems mean additional infotainment choices and more owner configurability.
The Jeep Grand Cherokee five-passenger sport-utility drives well on the pavement and off it.
Four-wheel drive, low-range gearing, and a full-size spare tire required for genuine off-road activities are optional. A variety of drive systems and two suspension arrangements are available.
Chrysler's 3.6-liter V6 engine is standard and more than sufficient for anything but heavy towing. For towing, they offer the 5.7-liter Hemi V8 and, at a higher price point, the new EcoDiesel. With 240 horsepower and 420 pound-feet of torque, the EcoDiesel's effortless nature is ideal for a big-wheeled heavy box like this. The diesel's EPA City rating matches the V8's Highway rating; and EPA ratings for diesels tend to the pessimistic side, counter to ratings for gasoline and hybrid vehicles.
The restyle applied to the 2014 Grand Cherokee gives it a cleaner, more integrated look, while sophistication increases with price. You can trace some development of the Grand Cherokee back far enough that it paralleled the Mercedes-Benz M-Class but with the new electronics it will feel familiar to drivers of other Chrysler product (and the diesel engine is now from VM, part of Chrysler's Fiat links). If there's a safety feature you want that isn't standard you can often get it as an option.
The Jeep Grand Cherokee competes against a spectrum of vehicles including four-wheel drives such as the Land Rover LR4, Mercedes-Benz G-Class, Toyota 4Runner and Land Cruiser, any number of compact-to-mid-size crossovers and niche models, and to a lesser extent with the Chevy Tahoe and Ford Expedition. If you want a seven-seat Grand Cherokee the closest thing is the Dodge Durango, but that does not yet offer the diesel or an SRT version.
Although SRT is now a standalone brand within Chrysler we include the Grand Cherokee SRT here because it still says Jeep on it and can be purchased at any Jeep dealership. This steroidal performance wagon competes with the Porsche Cayenne, BMW X5M and X6M, Mercedes-Benz ML63 AMG, and might get some Audi SQ5 or Cadillac CTS-V wagon shoppers. It's the fastest, most expensive, thirstiest Grand Cherokee, and the last one you want to use in the same sentence with off-road; in an SRT off-road means you missed the braking zone on a racetrack.